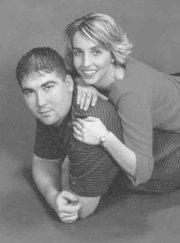 The Sunnyside United Methodist Church will be the setting of the marriage ceremony of Kacy Jo Monroe and Glenn Braman, both of Sunnyside. The wedding will be Saturday, June 25, at 4 p.m.
The bride-elect is the daughter of Tom and Diann Monroe of Sunnyside. She is a 1999 graduate of Sunnyside High School. The Banner Bank employee is currently attending Yakima Valley Community College, where she is pursuing a degree in business and finance.
The groom-to-be is the son of Clarence Braman of Ephrata and Carroll Williams of Fairfield. He is a 1995 graduate of Liberty High School in Spangle. Braman is currently attending Heritage University, where he is pursuing a degree in education. He is employed by the Sunnyside School District.
More like this story