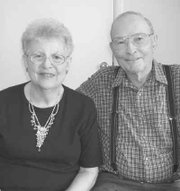 Long-time Mabton residents Earl and Erma (Anderson) Williams celebrated their 50th wedding anniversary Saturday, Jan. 8, 2005, at their home. The couple was surrounded by family for the momentous event.
Mr. Williams, a life-long Mabton resident, and Mrs. Williams, who has lived in the Lower Valley for the past 50 years, were married Jan. 8, 1955 at the Methodist Church in Goldendale.
Mrs. Williams was a stay-at-home mom and homemaker, and Mr. Williams is a retired carpenter.
The couple has one daughter, Earla Williams.