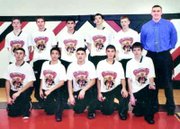 WAPATO - Matthew Jongsma picked off an inbounds pass with 6.5 seconds left to play, securing a 70-69 victory for the Sunnyside High School freshman boys basketball team in its season finale at Wapato.
The one-point nail biting decision capped off an unbeaten season for the Grizzly freshmen in league play (12-0). The victory also gave the high school freshman squad a 17-game win streak to close out the season. Overall on the year, Sunnyside's freshmen were 17-3.
Wapato's freshmen fought back from a 36-25 halftime deficit, pulling to within a single point. With 6.5 seconds remaining in the contest, the Wolves tried to inbound the ball, but Jongsma stole the pass and the Grizzlies were able to run out the clock.
"I am so proud of these kids and the way they fought to the finish," said Grizzly freshman squad coach Paul Van Pelt.
"They wanted to end their season on a high note, and did not want to let this victory get away from them to upset their final game of the season.
"These kids have determination, adversity and not only a heart, but a love for the game that allows them to play hard for four quarters," Van Pelt continued.
Jongsma also provided some of the heroics on the offensive side of the court against Wapato. He and D.J. Palomarez each tossed in a team high 16 points. Sunnyside teammate Diego Burgueno added 11 points.