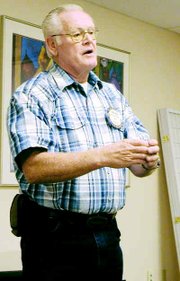 Christian businessmen from the Sunnyside area are making a difference around the world. And one of those businessmen, Herman te Velde, took time Wednesday morning to talk about the influence these local individuals are having overseas.
te Velde, a member of the Sunnyside Daybreak Rotary Club, spoke to his fellow Rotarians about the Partners Worldwide organization.
"It's really an exciting deal," said te Velde, who was recently recruited to become a mentor for the west coast region.
te Velde said Partners Worldwide takes a three-prong approach to helping people in third-world countries, noting the group is now focusing its attention on Zambia.
He explained that the group takes the poorest of the poor in these countries, and gives them a chance to borrow money and go into business for themselves. He noted that the money being loaned to these people is made possible through Christian Businessmen of Integrity, a group that allows people to borrow $3 for every $1 they bring in.
te Velde said when Partners Worldwide goes into an area, like Zambia, they take a group of 10 to 15 local businessmen and ask them what they would need to be successful. He said then the group helps them gain the resources they need in order to operate a successful business.
te Velde told Rotarians that one example of this involves a woman who needed nothing more than $300 to purchase a sewing machine to start her own business. He said the woman couldn't go to a traditional bank to borrow the money because $300 wasn't enough of a loan for the bank to even write up the paperwork necessary for a loan. He said that Partners Worldwide told the woman if she could raise $100 they would loan her the $300 she needed to purchase the sewing machine.
"Now she's in business," te Velde said. "She's working and supporting her family."
te Velde said the group's goal is to make it possible for that woman and other people like her to get themselves started and on their feet when it comes to starting a businesses. He said they would like to get these people to the point that they can go to a traditional bank and get a loan to help them really take off with their new business.
And businesses aren't the only thing that Partners Worldwide is helping get started. He said in Zambia they are also working on a farmer to farmer program, which brings in American farmers to help teach Zambians how to work the land successfully and provide for their families for 12 months out of the year.
te Velde said the group has also helped start a Christian school in Zambia, something that was done with only $10,000. And the local influence at the school is great. te Velde said books that Sunnyside Christian School was getting ready to throw away have found a new home in the African country. te Velde said Sunnyside Christian School now has a sister school in Zambia.
te Velde said he enjoys the work that Partners Worldwide has allowed him to do, and the changes that he has seen because of the work the group does.