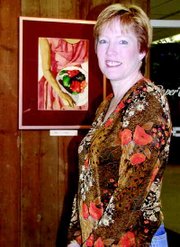 Sunnyside's Terri Rice was no stranger to the arts when she sat down in her first formal watercolor class, but she still wasn't quite prepared for what greeted her when she walked through doors at the University of Miami in Florida. Rice said on her first day of class she realized that what she had signed up for was a watercolor class filled with professional artists.
But instead of closing the door behind her and tiptoeing back out to the parking lot when she found out she was the only beginner in the class, she walked in, took her seat and prepared to learn.
Looking back, Rice said if she had known when she signed up for the class that it was going to be full of professional artists she never would have registered for it in the first place. But once she was in class, she found the whole environment to be so supportive that she stuck with it.
"The other people were all very encouraging," Rice said.
And now, looking at Rice's paintings hanging in the Sunnyside Mini Mall, the influences of that first class can still be seen.
Rice, who has been painting watercolors since 1982, said her first painting teacher set up a lot of unique still life scenes for her students. She said some days she would bring in fresh fish and other days it would be fresh cut flowers that she would ask her students to paint. Rice said she still enjoys painting still life scenes.
Another influence she took from that first class was the idea of taking a closer look at the subject being painted in order to capture the unique elements of something. Rice said she often takes a more close-up look at her subjects when she's painting than she would in her regular day-to-day life. It's this attention to detail that can be seen in her often brightly colored paintings.
Despite having never really formally taken a watercolor class before that one in the early 1980s, Rice was no stranger to the world of art. She began majoring in art while she was attending college in Kansas. She said while she was there she studied a lot of different mediums, including pen and ink drawings and silk-screening.
Rice, a Massachusetts native, said she knew watercolors were for her because she liked the movement they created on paper. She said she also liked the finality of it, noting that once the watercolors have dried the artist can't go back and redo anything.
"Once it dries, that's it, you're done," Rice said.
Rice's paintings are currently on exhibit at the Sunnyside Mini Mall, where they will stay through May. Rice said the paintings she has on display detail her journey through watercolors, and includes some of her early work. A reception to honor Rice is scheduled to take place Thursday, March 17, at the Mini Mall.
Rice is also planning to offer watercolor classes to any adults who are interested in learning more about the art form. The classes will take place Thursday evenings in March, beginning March 3, from 7 to 9 p.m. The minimum class size is six, but as many as 12 people can sign up for the class, which costs $150. The fee includes all of the materials and supplies that will be needed. Those interested in taking the class can contact Bill Flower at 837-3505 or Rice at 839-0580.