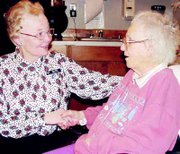 Twenty years ago when Hillcrest Manor Administrator Mary Arthur took over operations of the Sunnyside health care facility, life in a nursing home was much different than it is today.
"We used to be called a nursing home, heavy on the nursing," said Arthur, who will be celebrating her 20th year in Sunnyside this Saturday.
The staff of the nursing home wore different colored uniform tops, differentiating them as nurses, cooks, and employees working in housekeeping and other departments.
Today, Arthur said they have individualized plans for the elders, for those moving in with the idea of going home. The staff accommodates them with a plan designed to return people home. Others, she said, come with the idea of making Hillcrest their home. Arthur's staff is prepared to help those residents settle into their rooms making it home.
"Now we're a nursing home heavy on the home," she said. "We have the privilege of working in these elders' home."
The changes in the philosophy of care has been a learning curve for Arthur, who has been working in elder care facilities for the past 33 years.
Arthur started as an accountant, working for a nursing home in the Seattle area.
"I was working for the state as an accountant and it was during the times of attraction," she said, explaining that as employees resigned the remaining employees would take on extra duties.
When Arthur's boss told her she was leaving her job, Arthur knew a change had to occur.
"There was no possible way I could do my job and her's in 40 hours a week," she said.
Arriving at home, Arthur said there was a message on her phone from the vice president of a company that owned and operated nursing homes. The man said he needed an accountant and offered her the job. He even went out and purchased health insurance for her after she said she couldn't take the job without it. She didn't pass up the change in careers.
After a few years as an accountant she tested to become an administrator.
After spending 13 years working as a troubleshooter for what was then Beverly Enterprises, Arthur was ready to settle down permanently in a facility.
"I'd go into a problem facility and spend six months there getting things settled down," she explained.
Looking to move to Eastern Washington, after spending some time in the Spokane area, in November of 1984 Arthur put her name in for a transfer if a opening came up at one of Beverly Enterprises facilities.
"We liked the sunshine," she said.
Hearing about the job in Sunnyside, the first thing Arthur did was pull out a map to find the community. Researching the facility further, Arthur learned there wasn't a better one in the state to be a part of.
"We just walked in the door and we could just feel the love in the building," said Arthur.
Coming to a stable facility with a low occurrence of turnover from the frantic pace of Seattle was a relief for Arthur.
Her time in Sunnyside has been one of her greatest learning experiences when it comes to caring for the elderly.
The one-time nurses aide and her staff have turned control over to the elders, letting them decide when and what to eat, when to get up and what activities to take part in.
"The old philosophy was that doctors and nurses knew more than patients," she said.
By turning control over to the residents, care becomes a cooperative effort, she said.
When starting in Sunnyside, Arthur would never have even considered letting a dog into the door of the facility, but now Hillcrest Manor regularly entertains visits from dogs, cats and birds, not to mention visits by children.
"It's not fur and feathers, it's about bringing life into the facility," she said.
When she started at Hillcrest Manor there was one activities person, today there are five who visit with each of the elders on a daily basis.
Much of life at Hillcrest is really up to the residents.
"If the elders want to bake cookies for the firemen once a month, that's what they do," she said.
The change to the Eden Alternative philosophy, which implements bringing in life and giving choices to the residents, has been a growing experience for Arthur, she said, but seeing the lives of the residents improve has made it a worthwhile investment.
"We're always looking for better ways to do things," she said.
In some ways, working as an administrator for a health care facility is very different than the first career path Arthur had chosen and in some ways they are very much the same.
Graduating from a Tacoma high school, Arthur entered the Sisters of Providence, where she served as a nun for 13 years.
"I saw myself as a teacher originally," she said. "Now, I'm on the other end of the spectrum."
As a teacher, first in Yakima and then in the Seattle area, Arthur taught first grade.
"The first year I had 48 first graders, the second year I had 50 first graders and the third year I went into accounting," she said with a chuckle.
"Do you know why I went into accounting?" she asked with a smile, "because when you put a number down it doesn't move."
Believing that it is in the younger grades when children learn to learn, Arthur gave up teaching.
"I thought I ruined school for 100 kids," she said.
Later, a second grade teacher boosted her spirits, letting her know that she hadn't hurt the kids educationally.
Arthur still teaches, only today it is her staff who in many ways are her pupils.
New employees go through a four-hour seminar at Arthur's home on the Eden Alternative. She also has a four-hour personality course her staff goes through at her home.
Recently, Hillcrest Manor hired nationally known speakers to travel to Sunnyside to present ideas on communicating better with elders.
Providing those educational opportunities is something unique that Arthur brings to the Sunnyside rehabilitation center.
Maybe that is why the turnover rate for the local center is so low.
Nearly 50 percent of the staff has been working at the center for the past five years. Almost 80 percent have worked for the company for longer than a year.
"Losing employees affects your elders," she said, explaining that it is a control issue for those they serve.
"Our main turnover is in nurses aides. We're a springboard for them to be nurses, therapists and doctors," she added.
She added that the facility is one of the few in the Valley that offers nurse's aide training.
Though Arthur knows that if she wanted to she could quit anytime and be able to find another job, to her being administrator at Hillcrest is more than a job.
"It's not a job. It's a vision, it's a calling, a vocation," she said.
At 66, Arthur tells her staff she plans to retire in seven years.
"The staff keep teasing me. They said, 'you say that every year'," she added. "I guess they found me out."