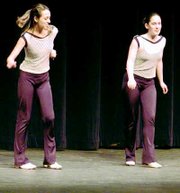 In light of the cancellation of the Lower Valley Hospice's An Intimate Red Wine and Chocolate Affair fund-raiser, the Sunnyside High School leadership class' annual talent show benefit takes on even more importance this year.
For the past six years the students of Sunnyside High School have held the benefit, with proceeds going to Lower Valley Hospice.
The students, although still in the planning stages, are looking for judges and donations for the event. The organizers, Vanessa Alvarez, Victoria Sarmiento, Rebecca Van Pelt, Amy Amaro and Erica Mendez, said that either cash donations or prizes are welcome.
Cash donations will be used for the talent show prizes. The event winners will be awarded cash prizes ranging from $50 to $100. Any merchandise donated will be used as door prizes for those in attendance.
The organizers are also looking for talent for the event. People of all ages are invited to audition. There is a $10 tryout fee. Sarmiento said they are trying to have as many talents showcased as possible.
Alvarez said they are looking for a variety of different kinds of talents, including clogging, acting, singing, bands, magic tricks, whatever talents people have. Auditions will be held Saturday, March 5, from 11 a.m. to 1 p.m. at the Sunnyside High School auditorium.
The five leadership class students said holding the talent show is especially important this year because of the cancellation of the chocolate and wine fund-raiser.
"We didn't want to have to cancel this too," said Van Pelt.
Rather than dividing the responsibilities, the girls are taking on each of the tasks together. One of their first tasks is to canvass the community looking for donations.
The benefit talent show will be held Saturday, March 12, at 7 p.m. at the Sunnyside High School auditorium. Tickets to the event are priced at $3.