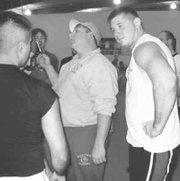 Three homegrown young men from Sunnyside are now taking the talents they showcased for high school football fans on the Grizzly field to the arena of semi-pro football.
Ryan Cullen, R.J. Elizondo and Derek Gillis are members of the Tri-City Knights semi-pro football team.
The Knights are one of eight teams taking part in the Evergreen Football League.
The Knights are in the western conference with such teams as the Columbia Basin Bulls, Wenatchee Valley Rams and the Yakima Mavericks.
The four-team eastern conference features the Valley Warriors, Walla Walla Stars, Palouse Thunder and Spokane Sabercats.
Cullen, 20, was encouraged to try out for the team last fall by his former high school teammate, Elizondo.
"We had like two weeks before the tryouts to get ready," said Cullen. "It was kind of fun. It was exciting."
Cullen said there were numerous people who tried out for the team, including one gentleman who was 50 years old.
Cullen said he is excited about making the team, where he is expected to play quarterback behind Knights' starter Scott Biglin, a 6'1", 220-lb. Pasco native, who is a former All-American. Cullen said Biglin is a smart quarterback and he is hoping he can learn from him.
"I am kind of glad I am not going to be starting at first," said Cullen.
Cullen said he feels privileged for having been selected for the team. Cullen said there are several players on the Knights' squad who have been part of professional football teams. Cullen said the Knights held tryouts in areas in Oregon, the Tri-Cities and Prosser and had several good football players to select from.
"There are a lot of guys who played college ball," said Cullen. "It is going to be good for me."
Cullen was looking for an opportunity to play football after redshirting at Eastern Oregon University last year. Cullen said he left the school because they didn't offer his major of radiology.
"I still wanted to play football," said Cullen. "This kind of opened the door for me. I was really happy I made the team. This is another good step for my career."
At 19 years of age, Elizondo is the youngest player on the Knights' squad.
Elizondo said that he was anxious to try out for the team because he still wanted to play football after high school.
Like Cullen, Elizondo said he is happy to have been selected from some 80 people who tried out for the Knights.
Elizondo said the actual tryout was easy for him.
"It was the build-up to the tryout that was more nerve racking," said Elizondo. "It is a big step from high school to this."
The tryouts were a unique experience, said Elizondo.
Elizondo said it looks that he will be getting the starting call at running back for the Knights. The running back roster for the Knights is heavy with alumni of Hermiston, Burbank, Kamiakin and Southridge high schools.
"Hopefully it will boost my confidence," said Elizondo of playing semi-pro football.
The team practices three times per week in the Tri-Ciites. Elizondo said the practices are a lot different than the way high school was.
"The coaches don't really have to coach you so much," said Elizondo. "It is expected of you."
Elizondo said he is anxious to show what he can do on the field, having overcome the stigma of not having any talent in high school because of his size.
"Now, I would like to take the next step up," said Elizondo.
The Knights will be playing their home games at Edgar Brown Stadium in Pasco.
Other Lower Valley natives on the Knights squad include Sunnyside's Guillermo Garcia Jr., who will be playing wide receiver, and Grandview's Ben Handson, who will be playing both sides of the line.
For more information on the Knights, visit www.tri-cityknights.com.