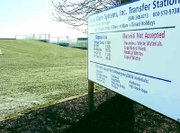 GRANGER - The privately owned Yakima Waste Systems, Inc. solid waste transfer station, located near Granger, is open to the public and offers a closer dump alternative while the county-owned facility is under repair.
The Yakima County Lower Valley Transfer Station on Cherry Hill is closed until April 4 while repairs are being made to the scales. The closure forces Lower Valley residents in the meantime to take their garbage to the Cheyne Landfill located near Zillah.
With the temporary closure of the county's transfer station, Scott Robertson, manager of Yakima Waste Systems, the company that provides Sunnyside's and Yakima County's garbage service, began promoting his company's transfer station, as an alternative site to the Cheyne facility for Lower Valley residents.
Open Monday through Friday from 9 a.m. to 4 p.m., the Granger transfer station on State Route 223, three miles west of I-82, can accept a variety of garbage and yard waste. It even accepts appliances and tires.
The private transfer station has been located in Granger for more than two years, according to Robertson. Previously, the company had collection sites in Sunnyside, Toppenish and other communities in the Lower Valley, but the goal was to develop one consolidated location in the Lower Valley.
"We'd been hoping to develop a transfer station for about 10 years, but were finally able to do it about two years ago," he said.
For those wanting to take advantage of the service, Robertson said it is important that people know that no vehicle able to carry a load larger than a pickup truck can dump at the transfer station. He added that all loads must be covered. Hazardous waste, including paints, solvents, oils and asbestos, will not be accepted at the Granger station.
The cost to use the facility is a minimum of $8. The cost per square yard of garbage delivered is $8.
There is a fee of $12.50 per appliance delivered to the site and $2 per car tire. Truck tires are $10 each to leave at the transfer site.
Tires and appliances need to be separated from other garbage.
Robertson added that those wanting to drop off recyclables can do so free of charge.