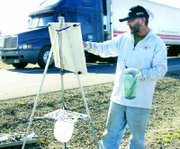 OUTLOOK - Country and western music blares out of a small boombox set precariously on the running board of an idling semi truck. The driver isn't anywhere near the large vehicle that is parked on the Outlook Interstate 82 freeway on-ramp. Looking across the asphalt roadway, a figure can be seen waving a paint brush over a canvas set on an easel along side the on-ramp. The colorful brush strokes quickly give way to a mountain scene, complete with a crystal clear lake that reflects the azure sky.
Mike Wilber has been a trucker for just a little over a year, hauling loads from one side of the United States to the other. The Tacoma man said he took up painting just shortly after he started driving. He said hauling a set of acrylic paints and several canvases gives him something to do when he has a few spare minutes.
Last Friday afternoon, Wilber found himself in just that situation. He said he was hauling a load of grapes from southern California to the Wal-Mart distribution center in Grandview. Wilber said he arrived in the Lower Valley ahead of schedule, parking in Outlook at about 12:30 p.m. Friday afternoon, with a load not set to be delivered until 5:30 a.m. the next morning.
"I'm dropping off a load tomorrow," Wilber said. "So I thought I'd come out here and enjoy myself."
Wilber pointed to the sunny skies and noted that it isn't often you get a warm afternoon in February.
When it comes to his paintings, Wilber said he sets up his easel and gets to work painting whatever comes to mind. Friday it happened to be mountain scenes.
"It's a great little hobby," Wilber said of his painting.
Wilber, who spent 24 years working as a nurse, said art is something he has always enjoyed. He said he can remember back to the third and fourth grade when he used to volunteer to paint portraits of his classmates in exchange for their lunch money.
"I just picked up a brush," Wilber said.
As for how often he gets a chance to paint these days, Wilber said whenever he finds a few extra minutes on the road he will pull over and set up his easel on the shoulder. He said since he started painting he has found time to paint all over the country.
When Wilber isn't on the road he also picks up his brush when he's at home. Wilber said, regardless of his location, he tends to have fairly good luck selling his road-side works of art. He said he has never painted a picture someone hasn't purchased. In fact, he said often times when he is painting along the side of the road, people will pull over and ask to buy the piece he's working on.
"It's also a chick magnet," Wilber said of his painting.
Although Wilber has long since packed up his paints and motored away from his sunny respite on the Outlook on-ramp, there is no telling when the next person driving along the freeway will spot the colorful painting trucker.