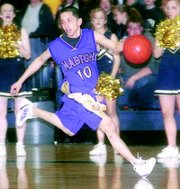 ELLENSBURG - The third time proved to be the charm for the Moses Lake Christian Academy High School boys basketball team.
After losing twice, earlier in the season, to Mabton, Moses Lake found the third time to be to its pleasing and it couldn't have came on a bigger stage.
Moses Lake bounced Mabton from the postseason with a 57-50 victory over the Vikings in a loser-out postseason game this past Friday evening. Moses Lake would lose the final State playoff berth in a hard-fought game to Riverside Christian on Saturday.
"They played better than the first couple of times we played them," said Mabton Coach Brock Ledgerwood. "They played pretty smart. They took advantage of our mistakes."
The game was pretty close throughout until the fourth quarter.
Moses Lake led 32-26 at the end of the first half after outscoring Mabton 19-14 in the second quarter.
The Vikings opened up the second half with a strong showing in the third quarter, outscoring Moses Lake Christian 17-9.
"We came out and took better shots," said Ledgerwood. "We did a good job of holding on to the ball, working it for the shot we wanted."
What was different about the third quarter compared to the first half was that the Vikings limited Moses Lake Christian's scoring opportunities. Ledgerwood said, in the first half, Moses Lake Christian scored a lot of buckets with its transition game.
In the first half, the Vikings also struggled on the boards, giving up a number of offensive rebounds to Moses Lake Christian.
"They are athletic and very physical," said Ledgerwood.
Ledgerwood said he felt his team kind of panicked down the stretch when Moses Lake Christian went ahead by five points with two minutes left. He said this led to the Vikings missing some shots they should have made.
Moses Lake Christian was also solid from the free throw line in the fourth quarter, hitting 9-of-12 shots.
The Vikings had trouble matching the offensive output of Moses Lake Christian. Josh Munoz led Moses Lake Christian in scoring with 16 points. Moses Lake Christian had four players in double digits in the scoring column.
"They were pretty balanced," said Ledgerwood.
The Vikings only had A.J. Valenica (21 points) and Alex Zavala (18 points) break double digits in the scoring column.
Mabton finished its 2004-05 league season third in the Greater Columbia 'B' League with a record of 8-5. The Vikings were 17-7 on the season.
1 2 3 4 T
Moses Lake 13 19 9 16 57
Mabton 12 14 17 7 50
Scoring: Mabton-A.J. Valencia 21, Alex Zavala 18, Ryan Harris 6, Ruben Mejia 5.
Moses Lake Christian-Josh Munoz 16.
Rebounds: A.J. Valencia 5, Alex Zavala 5.