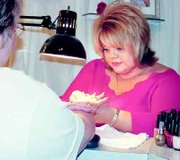 Watching as her pale sand-colored nail polish dries, Maggie Beach takes time to talk to her nail technician about her family's upcoming vacation. She chats about when her family is scheduled to leave and all of things that still have to be done before she leaves town. All of this while carefully guarding her newly painted fingernails from any smudges.
Beach is just one of Brezzi Campos' regular customers. Campos, who works at Hairworks on Lincoln Avenue in Sunnyside, has been doing nails and styling hair since she graduated from beauty school in 1998. Campos said one of her favorite things about the job is the chance to interact with all of her clients.
Campos said after graduating from Sunnyside High School she immediately left home for Walla Walla Community College, where she attended beauty school while earning her Associate's degree. Campos said the program took her two years and one summer semester to complete. She said her two years in Walla Walla were tough, attending beauty school classes all day and regular college classes in the evening. She added that despite her busy schedule she still managed to make it home to Sunnyside every weekend.
Once Campos graduated, it didn't take her long to decide where she was headed. Campos packed up her things and moved back to Sunnyside, where she set up shop in the same salon where her mother works - Hairworks.
Campos said after college she had to come home, noting that she missed her parents and knew she wanted to live close to her family.
"I can't stay away from my [family]," Campos said.
Now that Campos has been in business nearly seven years her typical day is usually fairly busy. She said she is usually at the salon from 9:30 a.m. to 6:30 p.m. with an hour and half lunch. Campos said she usually starts out her day in her comfortably appointed manicure and pedicure center, doing nails until late afternoon. She explained the afternoon is when her appointment book starts filling up with hair cut and color reservations.
Campos said her schedule wasn't always as tight as it is now. She said she spent her first couple of years sitting in the salon all day, waiting for customers to walk through the door. Those days are over, Campos said, as she now has a solid clientele list.
Campos said her decision to go into the beauty industry was one that was formed while she was growing up. She said her mother has been in the business for 34 years, and Campos remembers her always being there for her.
"She was at everything," Campos said.
She said while she was in school her mother attended school programs, came to basketball games to watch her as a member of the drill team and was always there to support her.
"I knew that I wanted to have kids and I knew that this was a job where I could do it all," Campos said.
Besides offering her flexibility in her family life, Campos, who is married with two young children, also likes that her job allows her a chance to talk to different people every day.
"Every day is so different," Campos said.
She said even if she sees the same woman every other Thursday morning to do her nails, every time they get together there is something new to talk about.
Campos said she also likes the creativity her job affords her, noting that it's nice to make a difference in people's lives by making them feel better about themselves.
"People like to come here," Campos said of the salon. "It's a happy place."
When Campos isn't at the salon or spending time with her husband, Ramon, and two daughters, Kiarra and Mikayla, affectionately known as Kiki and Lala, she is working hard for the Sunnyside Chamber of Commerce. Campos has been on the Chamber board of directors for two years. This year she is serving as second vice president.
Campos said she enjoys helping put together different Chamber events, including chairing the Cinco de Mayo festival this year and working on the upcoming Sunshine Days three-on-three basketball tournament and the Sunnyside Farm Implement parade.