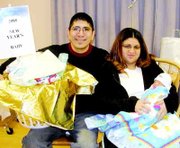 Maria Gomez of Outlook was in her last day of work at the Sunnyside Wal-Mart store before the start of her maternity leave last Friday, when her water broke at about 8:30 p.m. putting into motion the birth of her first child.
Her husband, Ruben, just happened to be in the parking lot of the store on his way to bring her lunch when she called his cell phone announcing she was heading to Sunnyside Community Hospital. He picked her up at the door and swept her away to the hospital. After 11 hours of labor with the assistance of two maternity nurses, their son Marcos Vicente Gomez-Santoy was born at 7:32 a.m. Jan. 1, 2005, making him the first baby of the new year in Sunnyside.
The couple's son, weighing in at 5 lbs., 11 ozs., was 14 days early, but the couple is excited that their first-born will share his birthday with the birth of a new year.
New dad, Ruben, said that his son's birth on New Year's Day will give him something else to celebrate besides the New Year.
"It's a great way for us to start out the new year," he added.
After a couple days of family and friends visiting at the hospital, the Gomez's were ready to head home. Mother and son were released from the hospital this morning (Monday).
Having the first baby of the new year the couple was presented by the Sunnyside Community Hospital shop and auxiliary with a basket of goodies, including diapers and blankets.
.