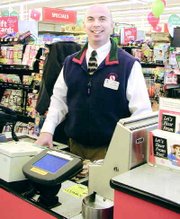 Jim Zook may be a relatively new face in Sunnyside, but he is no stranger to the grocery industry. Zook, who has been the manager of the Sunnyside Safeway store for the past two years, has been working with groceries for nearly 16 years.
Zook said he first started working in produce at a Piggly Wiggly in Tacoma when he was 17 years old.
"After high school, I wanted a car and it just developed into something I do," Zook said of working in the grocery business.
Over the years, Zook has worked his way up through the ranks, taking on new challenges and new responsibilities along the way.
"I just always tried to do my best," Zook said. "After feeling comfortable in one spot I would just try something else."
It was nearly a decade ago that Zook tried the ultimate "something else." He said he was working for another grocery chain that was bought out by Safeway. He had to re-interview for his job and was lucky enough to be kept on with the company. Since then, he has continued to work hard and just a little more than two years ago he completed all of his interviews to become a store manager.
Zook explained that at the time the only store in need of a manager was the Safeway store here in Sunnyside. He said he drove over from Tacoma, where he was working as an assistant manager at a Safeway store, to check out the Eastern Washington location.
"I like the area, it seemed like a nice place to be," Zook said.
And for the past two years Sunnyside has been the place where Zook spends much of his time. He said his time as store manager has gone by quickly, noting that the second year has gone more quickly than the first.
"This has been a lot more successful year for us at the store and for those in the community at large," Zook said.
As store manager, Zook said he does a little bit of everything. He said his duties can include bringing in carts from the parking lot, dealing with the store's 67 employees, checking groceries and completing daily paperwork.
"I'm not afraid to do anything to help somebody out," Zook said.
He added that his favorite part of the job is seeing the customers come in everyday, as well as being a part of the local community.
When Zook, who's married to wife Crystal, isn't busy at the Sunnyside store he can often be found taking part in his other favorite activity, tinkering with classic cars.
Zook, who owns a 1962 Chevrolet truck, said since moving to the area he has taken part in several different car shows. He said the sunny summer weather in Eastern Washington has proven to be more condusive to his hobby.
. Elena Olmstead can be contacted at (509) 837-4500, or e-mail her at eolmstead@eaglenewspapers.com
Elena Olmstead/Daily Sun News
Sunnyside Safeway Manager Jim Zook has been with the store for just two years, but has been working in the grocery industry for more than 15 years.