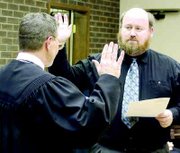 GRANDVIEW - After having served as a member of the Grandview City Council for more than a decade, Monday night Norm Childress found his place on the governing body shifting. Last night, Childress raised his right hand and was sworn in as the new mayor of the City of Grandview.
Childress was selected to take over as mayor when former Mayor Mike Bren announced his resignation during the Dec. 20 city council meeting. Bren's last official day heading up the community was Dec. 31.
Childress was first elected to the Grandview City Council 12 years ago. He explained that at the time he was elected to fill an opening on the council that brought with it only a two-year term. He said he figured it would be a good way to ease into the job.
Childress added that filling the open position also allowed him to gain a spot on council without having to unseat anyone. He said that at the time he was first elected to council he felt the group was doing a good job.
Over the years, Childress said he feels council has continued to do a good job for the community.
Childress said that as mayor he wants to continue to ensure that the council does a good job for its citizens.
"I want to continue the economic development in Grandview," Childress said.
He added that higher education is something else he would like to continue to see the council focus on, noting that the expansion of the local Yakima Valley Community College campus is important to the community.
Childress said he also wants to ensure that council continues its support of the aquatic center project, which is currently being proposed to the community.
"The aquatic center will be a tough sell, but it would be nice for the community," Childress said.
He explained that it will be a tough sell because it means asking citizens to tax themselves. Childress said taxation has proved to be one of the biggest challenges facing communities throughout the state and Grandview is no exception.
Childress said the passage of several recent initiatives have shown that citizens don't want to pay higher taxes, which means that cities are having to find ways to offer basic services with a limited budget.
Along the same lines, Childress said another challenge facing the community comes in the form of unfunded state mandates. He explained the mandates are coming at a time when cities are already stretching their budgets.
Overall, Childress said he is just looking forward to serving the community as mayor.
"Local government has always interested me," he said.
Childress has lived in Grandview since 1979, when he married his wife, Sandy. Childress said he grew up in the Lower Valley, attending Outlook Elementary School and Sunnyside High School, before graduating from Naches High School. Childress then continued his education taking classes at Yakima Valley Community College before transferring to the University of Washington.
Childress has spent the last 27 years working as a traffic engineer for the Benton County Public Works Department. Childress has two adult children, Cara, 23, and Josh, 21.