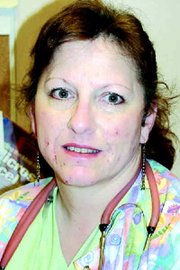 For her full-time job as house supervisor at Sunnyside Community Hospital, Terri Sanchez travels seven hours - one way - from her home in Libby, Mont.
Of course, she doesn't drive that long trip home the morning after her long 12-hour shift. The registered nurse stays in Sunnyside for her work week before returning to Montana.
While most people would shutter at the thought of a seven-hour commute, the petite woman says the drive is pretty painless.
"After you've lived in Montana for a while you get a different perspective on commuting," said the 22-year nursing veteran.
Sanchez worked at Legacy Emanuel in Portland, Ore. before moving to Montana. She is experienced in adult critical care and shock trauma emergency services.
As house supervisor, Sanchez is charged with making sure all goes well in the hospital for staff and patients, during the hours when the hospital's day-time administrators are off duty. "I handle administrative and staffing issues as they arise," she said.
Sanchez, who previously worked at Sunnyside Community Hospital as a temporary replacement nurse, said she likes working the night shift.
"I like handling the administrative end of the job. As a bonus I also get to do some hands-on nursing," she explained.
Sanchez said she made the decision to commute to Sunnyside from her Montana home after discovering that an administrative nursing job in Montana would have meant she would have to travel three hours each day from her home.
For her regular work schedule, Sanchez will work days on the weekends and the night shift Monday through Thursday during her six-day schedule. She also works the holidays as the house supervisor.
"Ultimately, it made better sense for me to commute to Sunnyside, stay for my 72-hour pay period, then drive home," she said.
"Besides, I like working in Sunnyside," she added.