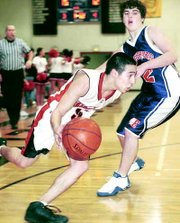 Riley Sivak poured in a game high 24 points against Sunnyside last night, but it was his Ellensburg teammate, Tony Quirk, who sparked the Bulldogs to a come-from-behind Mid-Valley League victory over the Grizzly boys basketball team.
The beefy, 6'5" Quirk pushed his way inside after intermission and drained the first three shots of the second half to touch off an Ellensburg charge.
"Him hitting those three buckets to start the second half, it really ignited Ellensburg," said second year Sunnyside Coach Steve Urrutia.
When all was said and done, the Bulldogs rallied from a 25-18 first half deficit to steal a 59-54 victory from Sunnyside in the Grizzly den.
The going doesn't get any easier for the Grizzlies (0-2, 3-5), as they face a pair of road games this coming weekend against the Selah Vikings (1-1, 7-2) and undefeated Hanford (1-0, 9-0).
Although Sunnyside slipped to 0-2 in conference play Tuesday evening, the Grizzlies showed signs of being able to compete against the league's best. In the first half they humbled Ellensburg, the Mid-Valley League leader at 3-0, holding the 'Dogs to just 18 points.
"But we just weren't able to sustain what we had going there in the first half for all four quarters," said Urrutia. "That's one of our problems."
Heading into the fourth quarter of play Sunnyside was still ahead of Ellensburg, clinging to a two-point lead. The Bulldogs finished with a 21-point showing in the final period, though, while limiting the Grizzlies to just 14 points down the stretch.
Ellensburg's bread-and-butter was the 6'4" Sivak. He knocked down 11 of the 18 first half points scored by the Bulldogs, increasing his scoring to 13 points in the second half. Quirk and Griffith each added 8 points for the winners.
Sunnyside's go-to guy last night was Jake Thomas. The 6'5" senior pumped in 16 points while battling the much heftier Quirk inside the paint.
"It was as well as Jake has played all season long," said Urrutia.
Urrutia said the game might have had a different outcome, had Thomas not fouled out with about five minutes remaining.
The game also might have swung Sunnyside's way had the Grizzlies turned in a better effort on the boards. Ellensburg ended up out-rebounding Sunnyside by a 32 to 20 margin.
"That right there, maybe, was the tale of the game," Urrutia said.
Of the 10 Sunnyside players who saw court time last night, seven of them scored. Besides the team high 16 points netted by Thomas, the Grizzlies received a strong offensive effort from Tony Cantu. The 5'10" senior ripped the net for 13 points. Chipping in 9 points for Sunnyside was 5'7" senior Noe Zammaron.
Ellensburg 10 8 20 21 -59
Sunnyside 12 13 15 14 -54
Ellensburg-Sivak 24, Affholter 5, Johnson 5, Griffith 8, Faire 1, Rittereiser 6, Quirk 8, Gordon 2.
Sunnyside-Cantu 13, Zammaron 9, Marquez 0, Simmons 4, L. Schilperoort 0, Crimp 3, R. Schilperoort 6, Thomas 16, Pacheco 0, Duran 3.
FG-E'burg 20/47, S'side 18/41. FT-E'burg 17/27, S'side 13/21. Rbd.-E'burg 32, S'side 20. TO-E'burg 17, S'side 14.