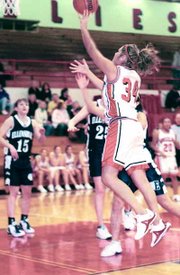 Sunnyside may have won last night's basketball game against the Ellensburg Bulldogs, but it wasn't an easy victory for the Lady Grizzlies.
Sunnyside had to work hard for the 55-44 victory, which meant pulling away from the Bulldogs in the fourth quarter. Throughout the first three quarters of the game the two teams managed to stay neck and neck.
"We didn't play to our level," Sunnyside Coach Leo Gomez said of his team's performance against the Bulldogs.
"Ellensburg played a great game last night," Gomez added. "But in the last two quarters we out played them."
At halftime there was just one point separating the two teams, with Sunnyside ahead 24-23. But Gomez said at one point in the second half of the game, the Bulldogs managed to inch ahead of Sunnyside, gaining a one-point lead.
But that one-point Ellensburg lead didn't last long. Gomez said in the fourth quarter his team stepped it up. Senior Erica Mendez hit two three-point field goals in a row, followed by some successful Grizzly lay-ups and a few foul shots. It was enough to give Sunnyside a comfortable lead against the Bulldogs.
"It made a big difference," Gomez said of the team's scoring run.
Helping push Sunnyside over the top last night were Kerri Urrutia and Mendez. Urrutia had 17 points and three rebounds, while Mendez contributed 16 points and five rebounds.
"Kerri had a really good game," Gomez said. "She played well and made some big baskets for us."
He said the sophomore stepped up her game against the Bulldogs.
"It was one of her best games," Gomez said.
He added that Mendez really proved to be a force in the second half. Gomez said she scored 13 of her 16 points after intermission.
The match-up against Ellensburg is the first in a long line-up of league games for the Lady Grizzlies (1-1, 5-3). Gomez said the team is currently working on getting ready for their next few games, including a Friday night match-up at Selah and a Saturday night game at Hanford.
Ellensburg 7 16 13 8 -44
Sunnyside 13 11 13 18 -55
Rbd. - Sunnyside 25 (Spini 8, Mendez 5, Haringa 4).
Sunnyside-Phillips 2, Rivera 1, Sarmiento 3, Alvarez 0, Caballero 0, Urrutia 17, Ruelas 2, Mendez 16, Haringa 2, Pangle 2, Spini 11.