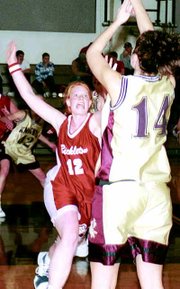 Sunnyside Christian's objective last night was to take control early and end any suspense as to the outcome.
Mission accomplished!
The Lady Knights basketball team employed a press to open the game and forced Bickleton into committing 19 turnovers in the opening quarter. That led to Sunnyside Christian jumping out to a 22-6 lead.
"Their man-to-man press was just too much for us," said Bickleton Coach Tom Whitmore. "They are pretty effective at turning everything into a lay-in."
SCHS Coach Al Smeenk called off the dogs late in the first period, as his club rolled to a 65-20 South Central 'B' League victory.
"All nine of our girls got into the game in all four quarters," said Smeenk. "Our goal wasn't to run up the score.
"We did want to take control early," he added, "And one of our objectives was to keep the ball out of the hands of Annie Hess. The goal was to hold her to 10 points or less, because she's one heckuva athlete. When Hess did get the ball, we triple-teamed her. She's too good of a player not to put extra bodies on her."
Hess finished the game with 10 points, half of the Lady Pirates' total. She also snared 14 rebounds, which kept Bickleton nearly even with the Lady Knights on the glass. Kirsten Slater added a 6-point effort for Bickleton.
Sunnyside Christian had two players reach double digits in the scoring column-sisters Tysynna and Tori Van Wingerden, who combined for 30 points. Brittany den Hoed chipped in 8 points for the winners.
Tuesday evening's win upped Sunnyside Christian's conference record to 2-1, 5-4 overall. Bickleton fell to 1-2 in league play, 4-3 overall.
Bickleton 6 3 5 6 -20
Sunnyside Christian 22 19 14 10 -65
Bickleton-Hess 10, Slater 6, Macias 2, Raschko 2.
Sunnyside Christian-Ja. Roberts 4, To. Van Wingerden 12, DeGroot 6, Rice 3, Ty. Van Wingerden 18, Jo. Roberts 6, Hernandez 6, den Hoed 8, Mensonides 2.
FT-Bickleton 6/11, S'side Christian 5/10. Rbd.-Bickleton 25, S'side Christian 31. TO-Bickleton 41, S'side Christian 11.