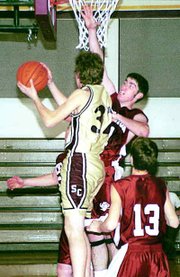 by Michael Kantman and Julia Hart
Dean Wagenaar broke a record Tuesday night at home belonging to his long-time friend and former Sunnyside Christian High School varsity boys basketball coach Bob Rip.
Wagenaar became the all-time winning coach for the Sunnyside Christian High School varsity boys basketball team with Tuesday night's 88-45 victory over Bickleton. Wagenaar surpassed Rip's previous mark of 206 victories with the win over the Pirates.
"It doesn't change anything. I didn't wake up any different this morning." said Wagenaar, who joked that all it really means is he is getting older and losing his hair.
"I have all the respect for Bob. I always did," Wagenaar added.
The short-handed Pirates, who only fielded five players for the game, didn't go down without a fight.
"They play hard," Wagenaar said of Bickleton. "I knew that they would."
"With no one to go in as substitutes, they got tired," said Bickleton Coach Ben McBride of his team. "But, I think they held up well."
After keeping things close early in the first quarter, the Knights were able to pull away with a couple of key defensive rebounds and several steals. Sunnyside Christian ran the court well for most of the game and was able to convert on the backside of the fastbreak.
The Knights had a tremendous first quarter, shooting 11-for-13 from the field and recording seven steals.
Wagenaar was impressed with the way his team contested nearly every shot the Pirates took.
Wagenaar said he felt the push by his Knights on both sides of the ball in the first quarter helped dictate the pace of the rest of the game.
"We made it very difficult for them to score," the Knights coach said.
"It was hard for us to handle them offensively or defensively," said McBride.
Wagenaar added that his team did a nice job of getting the ball inside and taking high percentage shots.
"We worked hard inside," said Wagenaar.
One part of the game that surprised Wagenaar was how athletic some of the Bickleton players were.
"A couple of those kids had some sweet moves," said Wagenaar.
Leading 24-8 at the end of the first quarter, Sunnyside Christian put the game away with a 24-9 stretch in the second period.
"We just didn't do well in the first half and only a little better in the second half," said McBride. "Sunnyside got into a shooting rhythm that was hard to beat."
The Knights benefited from a nice night by Aaron Van de Graaf, who had 14 points, including four 3-pointers. Chad Den Boer and Jordan Haak were the other Sunnyside Christian players in double digits with 13 and 12 points, respectively.
The Pirates were led in scoring by senior Bryan Whitmore, who had a game-high 24 points.
Bickelton (0-3, 0-7) will travel to Toppenish Tuesday, Jan. 11, to play Yakama Tribal.
Sunnyside Christian (2-1, 8-1) will travel to Toppenish this Saturday for a game with Yakama Tribal. The Knights will then spend the rest of the following week preparing for the league showdown at home with Mabton on Jan. 15.
1 2 3 4 T
Bickleton 8 9 16 12 45
SCHS 24 24 18 22 88
Scoring: SCHS-Aaron Van de Graaf 14, Chad Den Boer 13, Jordan Haak 12, Matt Haak 9, Nick De Jong 8, Derek Van de Graaf 8, Andrew Schutt 6.
Bickleton-Bryan Whitmore 24, Tyler Jensen 9, Cody Loomis 8.
Rebounds: SCHS-John Bosma 6, Justin Burgers 4. Bickleton-Bryan Whitmore 7.
Assists: Andrew Schutt 6.
Steals: Andrew Schutt 5.