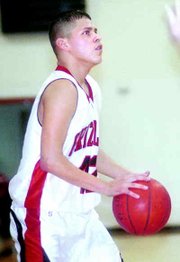 When Efren Duran started taking classes at PRIDE High School, his junior year he knew he was going to have to make some changes in his life. Along with improving his attendance record and getting good grades, Duran said he made a conscious decision that he was going to play basketball.
"Since I've been here [at PRIDE] I've thought a lot of things," said Duran, now a senior.
He said the summer between his junior and senior years, he thought about what he wanted to do, and as he watched the young children in his neighborhood playing basketball he knew he wanted to play varsity basketball on the Sunnyside High School team.
Duran didn't stop at just thinking about playing basketball. Instead, he started a training regimen.
"I started training all summer to play basketball," Duran said.
Sunnyside High School Boys Basketball Coach Steve Urrutia said that for Duran to decide, on his own, that he was going to put together a training regimen and stick to it says a lot about the high school senior.
"It takes a lot of self discipline to do it by yourself," Urrutia said.
Duran is no stranger to the basketball court. He played for Sunnyside High School his freshman year, while he was attending SHS, and played AAU basketball in seventh and eighth grades. Before that Duran had played basketball with friends, starting back when he was in third grade.
When it came time to actually try out for the team, Duran said all of his training didn't prepare him for the nerves he felt when he walked into the gym.
"A lot of guys were surprised to see me there," Duran said. "I was just a little nervous but I knew I had a chance."
Going into it, Duran said he just wanted to do his best.
"We never even knew he had any interest in trying out," Urrutia said of Duran.
He said the coaching staff was surprised to see Duran walk through the doors on the first day of tryouts. But once they started getting into scrimmage situations Urrutia saw that Duran stuck out.
"He made it, not difficult, but impossible to cut him," Urrutia said.
He noted that Duran is the kind of player who knows what other people on the court are going to do before they do it.
However, there is a difference between the kind of basketball Duran has been playing the last couple of years and the organized game the SHS team plays.
"A lot of what he's done is street basketball," Urrutia said.
He noted that since practice started Duran has been on a learning curve, taking time to learn about the game.
Duran, who plays a guard position on the team, said so far practices have been going well.
He admitted that there are some new things to get used to on the court, explaining that in street ball there are no referees.
"You do whatever you want to do," Duran said of street basketball. "High school ball is a lot more organized, there are referees and there are fouls."
Urrutia said that since joining the team, Duran seems to have grown a lot both on and off the basketball court.
"There's a level of confidence [Duran has gained], not just in basketball, but as a person," Urrutia said. "He's a great kid."
Duran said his fellow students at PRIDE High School have had a positive reaction to him playing on the SHS team.
"Everyone is happy to see me on the team," Duran said.
PRIDE High School Principal Gary Babcock said he is proud of the growth Duran has made both academically and on the basketball court.
"Playing basketball at the varsity level at Sunnyside High School was a goal he had and he was willing to work for it," Babcock said.
He explained that any PRIDE High School students who meet the grade and attendance requirements of the SHS athletics program are eligible to play sports at Sunnyside High.
He said over the years PRIDE students have played on the SHS wrestling, football and girls softball teams. However, Duran is the first PRIDE student to make the grade for the SHS varsity boys basketball team.
Duran said he is glad that he decided to make the leap and try out for the team.
"I decided to give it one last shot and finish school by playing ball," Duran said.