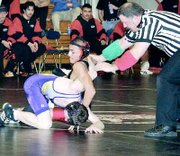 Winners of four of the first five matches last night, the Sunnyside High School wrestling team defended its home mat and dealt visiting Hanford a 39-28 defeat.
Thursday evening's victory upped the Grizzlies' Mid-Valley League record to 2-1. Sunnyside and West Valley are currently tied atop the conference standings.
While eight of the 14 Grizzlies came away with wins last night, none of the victories was probably bigger than the one junior Michael Graham posted against his Falcon counterpart.
Hanford had closed to within 27-19 of the Grizzlies with 145-pounder Mike Szender's pin of Sunnyside's Jordan Bellamy. Graham came up huge, though, in his 152-lb. match, pinning Ruben Clements midway through the second period to push Sunnyside's lead back out to 33-19.
The victory by Graham was even more impressive, considering Clements had pinned the Grizzly grappler just a week ago at the Hanford Invitational.
From the outset, Graham showed Clements that he wasn't going to let last week's loss to the Falcon intimidate him. The Sunnyside junior opened a 3-2 lead on Clements in the first period. Starting in the down position in the second round, Graham manuevered to score a reversal, in the process turning Clements onto his back. A minute and 25 seconds into the second period, with a thunderous roar from the Grizzly faithful in the background, the referee slapped the mat to signify Graham had avenged last week's loss with a pin of his own.
"It was the match of the night," said Sunnyside Coach George Paulus. "Michael's pin definitely gave us some breathing room."
Any hopes for a Falcon comeback went by the wayside in the next bout. 160-pounder Victor Moreno, a senior, dominated Hanford's Bryan Roller, pinning the Falcon a minute and 35 seconds into the second period. The victory by Moreno gave Sunnyside an insurmountable 39-19 lead.
"Victor's pin iced it for us," said Paulus.
Hanford opened the action last night with a pin by 215-pounder Logan Roehm. The Falcon scored the fall in 2:40 against first year Sunnyside wrestler Daniel Cruz, a senior who was filling in for the injured Casey Smith. It was Cruz's first ever varsity match.
Sunnyside rebounded with four consecutive victories, though, to forge a 20-6 lead.
The first of the wins came from 275-pounder Pete Garza, who dominated Hanford's Ryan King enroute to posting a fall at the 1:49 mark.
Freshman Isaac Romero (103 lbs.) made it two wins in a row for the Grizzlies with a 5-0 decision over Dustin Doyda. Romero improved to 17-2 on the season with the victory. Paulus, who pointed out that Romero already has three invitational titles to his credit this season, said the underclassman is enjoying a solid freshman year.
Sophomore Ricardo Rivera upped Sunnyside's lead to 14-6 when he scored an 18-3 technical fall against Hanford's Sean Neal (112 lbs.). Six of the 18 points Rivera scored against Neal were the result of two near falls.
Senior Steve Sanchez gave the Grizzlies their four consecutive win, boosting Sunnyside's lead to 20-6, by pinning Hanford 119-pounder Scott Casas. Sanchez had built a 16-3 lead on Casas before pinning him a minute and 10 seconds into the second period.
Kenny Pulsipher (125 lbs.) edged Sunnyside freshman Joseph Villanueva by a 3-0 score to draw the Falcons within 20-9, but Grizzly senior Greg Burbidge fired right back in his 130-lb. bout to score a 10-2 major decision against Ben Ramos. Burbidge, who's been injured, was making his first varsity start of the season last night. His victory shot Sunnyside's lead out to 24-9 over the Falcons.
"Considering it was Greg's first match of the season, it was a big win for us," said Paulus.
One of Hanford's top guns, 135-pounder Aaron Edmonds, cut Sunnyside's lead to 24-13 with a 15-4 major decision against senior Juan Salinas. Even though he lost the match, it was a moral victory for Salinas, considering the goal Paulus set for him was to avoid a pin and the six accompanying team points Hanford would gain with a fall.
"The Edmonds kid is one of their horses," said Paulus. "For Juan to not get pinned by him, it was a good effort on his part."
Another of Hanford's big dogs, John Georges, also couldn't get the job done last night. Facing senior Omar Magana (140 lbs.), Georges sustained a mild upset of sorts, losing 7-2 to Magana.
"Omar put together a very solid match," said Paulus. The win by Magana upped Sunnyside's lead to 27-13.
Following the loss by Bellamy, who was wrestling his first ever varsity match, to Szender at 145 lbs., Graham came through with the big win on the night to help seal the deal for the Grizzlies.
After Moreno iced the victory for Sunnyside at 160 lbs., Hanford won the two remaining bouts. Evan Dodson (171 lbs.) pinned James Van Wingerden, and Cody Bradshaw (189 lbs.) squeaked by Carlos Garza-Padilla 2-0.