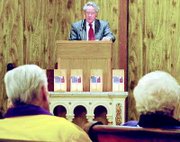 The 16th annual "Light Up a Life" event, sponsored by Lower Valley Hospice, moved indoors this year and was held at Smith's Funeral Home Thursday night.
Approximately 20 people attended the service, which included paper bag luminaries glowing softly in front of the chapel.
According to Lyla Wandling, Hospice Chaplain Michael Fitzgibbons spoke to the group about end of life services and dignity in death. Greg Smith provided special music, singing "I Know Not Where the Road Will Lead."
Wandling said the annual event is a time to honor a loved one who has either died or is still living and remember and honor them. About seven years ago Hospice added the luminaries to the service, which can be purchased in honor of a loved one.
"It's open to anyone," said Wandling. "It's not limited to Hospice patients or former Hospice patients."
She said several of last night's participants have lost loved ones, but they were never served by Hospice.