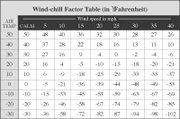 Cold weather can often be dangerous, especially when mixed with gusting winds.
However, just because the temperature drops doesn't mean people should all together abandon outdoor activities.
The U.S. Forest Service instead recommends that people should simply take the time to prepare themselves for the wintry weather conditions before they head outside.
According to the Forest Service, those who are planning on heading out should dress in layers and be prepared for any winter weather condition that may arise. The Forest Service notes that although clothing can be very protective in dry, cold conditions, if clothing becomes wet, either from perspiration or from falling snow or rain, it loses 90 percent of its insulating value.
The Forest Service suggests people choose winter weather clothing that can stand up to "...wind-driven rain and snow." It is also suggested that when people do bundle up to go outside they cover their head, neck, body and legs.
One of the reasons it is so important to ensure that clothing is appropriate for the conditions and is wind proof is because blowing wind on cold days can drive the temperature down even further.
According to the British Model Flying Association, on a 20 degree day with winds of 10 miles per hour, the wind-chill brings the temperature down to 4 degrees. If the wind picks up to 15 miles per hour on a 20 degree day the wind-chill brings temperatures plummeting to 5 degrees below zero.
Tom Lathen of Sunnyside Community Hospital said when heading out to run errands on a cold day it is important to be sure and cover up your head, noting that this is where a lot of heat can be lost.
When it comes to every day activities in the winter, Lathen said people should remember dropping temperatures aren't an excuse to not exercise. He said someone who typically goes for an hour-long run when the weather is warmer can still continue to exercise outside. Lathen suggested instead of going on a long run, the person take 10 to 15 minute walks four or five times a week.
He said people should also remember going out into the cold won't give you a cold. Lathen said people get colds from being around other people who are infected, noting that a cold is a viral infection.
Another condition that can plague people when temperatures drop is seasonal effective disorder, which can bring depression. Lathen said people should try to find ways to do things they enjoy despite the cold weather, noting that this can often ward off the disorder.
When winter weather is ushered in with snow and ice, besides preparing yourself for cold conditions it is important to prepare your mode of transportation.
The U.S. Forest Service recommends people keep a few extra supplies in their cars, including tire chains, a small bag of cat litter for traction and a small shovel. The Forest Service also suggests ensuring that you have a good battery in your vehicle and checking to make sure all of your fluids are up-to-date. Grandview Police Detective Mitch Fairchild added people should also put a blanket or sleeping bag in their trunk in case they get stuck in the snow.
Fairchild added that it is also important to remember to slow down and drive carefully in winter weather.
However, Fairchild said when winter weather hits hard it can often be smart to just stay home.
"Stay home and stay warm," Fairchild said.