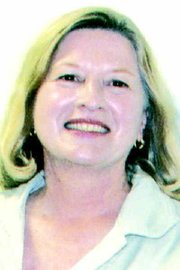 She might not have stepped up if they hadn't thrown that single piece of bait towards her.
Sunnyside's Jerri Honeyford, who comes from a long line of farmers and who farms along side with her husband, Sen. Jim Honeyford, has been elected the 2005 president of the Yakima County Farm Bureau.
The immediate past president, Mark Barrett of Yakima, gets the credit for Honeyford's ascent to the leadership role.
"When Barrett announced he wouldn't seek the role again, they (the other Bureau board members) all looked at me. They told me that if I took the position I'd be the first woman bureau president.
"How could I turn that down," she smiled.
It's a role she is excited to take on for a variety of reasons, not the least of which is her own passion for the survival of farmers.
The Yakima County Farm Bureau is dedicated to supporting farmers and farming, explained Honeyford. "It is our mission to be a grassroots advocacy representing the social and economical interests of farm and ranch families," she explained.
In addition, the Farm Bureau seeks public support on the issues affecting farmers and ranch families.
"We want an opportunity to be part of the solution, rather than waiting for an edict and then defending against it," she said.
As the president of the 2,130-member organization, Honeyford sees her role as one of staying up-to-date on issues, which impact agriculture and sharing that information with ag-families. "
We (farmers) need a voice in policy if we are to stay in business," she added.
Honeyford said members of her family have been Farm Bureau members since its inception in the county. She joined the county agency 10 years ago as an aid to her husband, who was seeking to learn more about the issues facing the Valley's agricultural industry. Since that time, Honeyford has expanded her role to that of leadership, having served on the board until being elected president this past November.
Currently, among the issues facing the Bureau's leadership is storm water, reviews of critical area use, such as wetlands and natural habitats as they relate to farm land. In addition, the Bureau is also protective of farmers' water rights.
"Farmers are good stewards of their land," said Honeyford.
"We're working with state agencies to make sure farmers' rights and needs are not overlooked in the setting of state regulations and requirements," she explained.
The Yakima County Farm Bureau is a part of the Washington State Farm Bureau, which was founded in 1922. Yakima County farmers didn't formalize into a county-wide organization until about 1948. Before that Farm Bureau members in the county met by areas and acted as individual groups to meet the needs of their areas.
Today, the Yakima County Farm Bureau also sponsors safety seminars for growers and ranchers and farm workers, Honeyford explained. In addition, the Bureau offers health care insurance and prescription drug coverage to its members.
"It is very family-oriented and it is one of the few groups that still opens its meetings and dinners with prayer," said Honeyford.
"Farming, family and faith - it meets my values," she said.
.