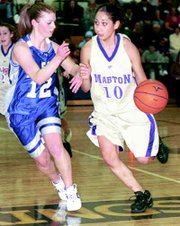 MABTON - In their second league game of the season the Mabton Lady Vikings were defeated by the LaSalle Lightning 56-30. The loss is Mabton's second of the season.
After 11 days off, Mabton started out strong and stayed up with LaSalle, leading 10-9 with 25 seconds left in the first quarter, said Mabton Coach Mike Roettger. "They hit a three-point at the buzzer putting them ahead going into the second quarter."
Coming back after the first quarter break the Lady Vikings found themselves in foul trouble, which plagued them the rest of the game. The Mabton girls sent LaSalle to the line 16 times, which they were able to turn into 26 points, the spread of the game's final score.
"Foul trouble got us bad," said Roettger.
He said towards the end of the game more fouls were being called on the Lightning, but it was too late for the Lady Vikes.
"They (LaSalle) only hit probably 13 field goals the whole night," said Roettger. "You can't put them at the line."
Also attributing to LaSalle's win were the 32 turnovers Mabton committed, compared to the Lightning's 18.
"We need to limit our turn-overs in the half court setting," said Roettger.
He said LaSalle's man-to-man defense is probably the best in State B action.
"They put lots of pressure everywhere," said Roettger.
One area Roettger said Mabton shined in was half court defense.
"We've just got to stay out of foul trouble and stop reaching," he added. "We need to play the whole game like we did the first quarter."
The Lady Vikings (1-1, 8-2) have two tough league games this coming weekend against Riverside Christian (home) and Sunnyside Christian (away). The girls' games will begin at 6 p.m.
.