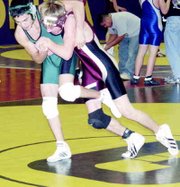 GRANDVIEW - The Prosser High School wrestling team came out on top of the Grandview Invitational this past Saturday.
The Grandview invite was supposed to feature seven teams, but Omak was unable to make it because of inclement weather, said Greyhound Coach Jeff Sevigny.
Prosser won the invite team title with 168 points. Kiona-Benton was second with 165 points. Grandview finished third with 158.5. West Valley-Yakima took fourth place honors with 122.5. Quincy was fifth with 112 and Kennewick took sixth place honors with 70.5 points.
While Grandview didn't win the invite, the tournament gave the Greyhounds a good look at Kiona-Benton, who they will be facing this Thursday at home with the league title in the balance.
Grandview heavyweight Andrew Morales was the lone Greyhound to take top honors at the invite. Morales won a 5-3 decision in overtime against Kennewick's Mark Reavis in the finals. Morales scored a takedown with two seconds left in the overtime period.
"Andrew wrestled really good earlier in the day," said Sevigny. "That was such a defensive match in the finals. I think Andrew wrestled too tentatively."
Matt Saldana made it to the finals for the Greyhounds at 130 lbs., dropping a 9-4 decision to Brandon Stelter of West Valley.
"Stelter is a tough kid," said Sevigny.
Saldana was in the match early, said Sevigny, but faded late.
Shay Seimears found himself once again in the finals for Grandview at 135 lbs., losing a 9-2 decision to Kennewick's Michael Marlow. Sevigny said Marlow is a tough, competitive wrestler who won the Hanford invite at 140 lbs.
At 160 lbs., Grandview's Jesus Soto made his way to the finals, losing 11-5 to Quincy's Santana Echazarria. Sevigny said it was a good outing for Soto, who has been wrestling well lately.
Tovias Magana had a tough task in the finals for Grandview at 171 lbs., losing a 12-3 decision to Prosser's Ivan Merino.
"Tovias wrestled a solid tournament," said Sevigny. He got in the finals and made some mental mistakes."
At 189 lbs., Grandview's Heleodoro Lopez ran into a chainsaw in the finals, dropping an 18-3 decision to Pat Barnick of West Valley.
Kaelan Nelson continues to be a strong point for the Greyhounds at 125 lbs. Nelson finished third this past weekend, beating Jeff Slape of Kiona-Benton 7-2 in the consolation finals. Nelson dropped a heartbreaker in the semifinals, losing a 6-5 decision to Gabe Lindquist of Quincy.
After starting the season 1-5, Nelson has amassed an impressive 12-3 record during the past three weeks.
"He has been doing fantastic lately," said Sevigny. "He is kind of settling down."
At 152 lbs., Grandview's Jacob Robillard took third place honors, winning an 18-2 decision over Quincy's Nick Melburn in the consolation finals.
Rigo Rodriguez placed third at 171 lbs., winning a 9-2 decision over Kennewick's Ricky Carrillo in the consolation finals. Rodriguez had wrestled a solid match against Merino in the semis, losing 6-2, said Sevigny.
"Rigo was fantastic," said Sevigny. "Saturday, he looked really good."
At 215 lbs., Grandview's Junior Pina won the consolation championship, defeating Josh Castilleja of Prosser 6-3.
At 103 lbs., Grandview's Andrew Tucker finished fourth, dropping a 4-0 decision to Tim Kruse of West Valley in the trophy round.
First year wrestler Kevin Concienne finished fourth at 135 lbs., losing to Jerry Haug of Ki-Be 7-2.
Grandview's Michael Benavidez finished fourth at 140 lbs., losing by pin to Quincy's Todd Yeates.
Freddy Magana lost by pin to James Gleason of West Valley at heavyweight to place fourth.
Fernando Godinez went 1-2 for Grandview at 119 lbs. Teammate Max Saldana was 1-2 at 130 lbs. At 140 lbs., Grandview's Rene Montelongo went 1-2. At 145 lbs., Grandview's Yoni Kausor was 1-2. Also finishing with a 1-2 mark were Keagan Christensen at 160 lbs. and Tony Chester at 171 lbs.
Grandview travels to East Valley this Tuesday.
.