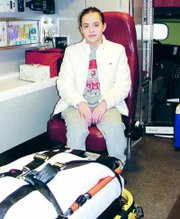 Last Thursday started off as a normal day for 14-year-old Michelle Redick, a seventh grader at Harrison Middle School. She stopped by the Daily Sun News after school with her father, George, and her younger sister Rebecca, to pick up the newspapers for her paper route and started on her way.
However, when she reached Dayton Drive she heard something that frightened her. She heard Jane Swindell screaming for help from inside her garage.
Swindell said this morning (Monday) that she had been on a ladder trying to put away her Christmas decorations, when she fell and broke her hip.
"I felt my hip break," Swindell said from her hospital bed at Sunnyside Community Hospital, where she is recovering from partial hip replacement surgery.
She said after falling she tried to crawl into the house but couldn't get up the steps leading inside.
Instead, Swindell started to yell for help, and luckily Redick and her sister were nearby.
"I was very, very grateful to see her," Swindell said. "She saved my life."
Swindell said if the young newspaper carrier hadn't found her, she could have laid outside in the cold weather for a long time.
Redick said when she heard Swindell screaming she ran into the garage and found her lying on the ground. She said Swindell told her to run across the street and get neighbor Max Wickham for help.
Redick said she did exactly what Swindell asked, running across the street and ringing Wickham's doorbell.
"I was scared and didn't know what to do," Redick said.
However, the young carrier did just what she was supposed to do, ultimately finding help for Swindell.
Wickham said he was surprised to open the door that afternoon and find a little girl standing there asking for help for his neighbor.
"I thought it was pretty good of the paper girls," Wickham said of Redick and her sister.
Redick has been delivering the newspaper since December.