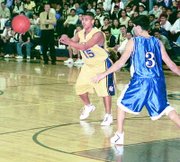 MABTON - Perfect! At least that is how things are panning out so far for the Mabton High School boys basketball team (3-0, 10-0) at the midpoint of the season, following Saturday's 60-49 victory over LaSalle.
But the Vikings are going to have their work cut out for them this coming weekend in what will be a defining point of the season.
The Vikings will host Riverside Christian this Friday night and then travel to Sunnyside Christian on Saturday with the top spot in the league at stake. The Crusaders are currently undefeated in league while the Knights only have one blemish on their record, which came at the hands of Riverside Christian.
"It will be pretty big for us," said Mabton Coach Brock Ledgerwood of this coming weekend. "It is important for us to go out and compete."
The snowstorm this past Friday night delayed Mabton's game at Trout Lake. Ledgerwood said the game against the Mustangs will probably be made up in February.
The snow didn't stop Saturday's game at home against the Lightning.
Mabton set the pace of the game early with a 14-4 run in the first quarter.
LaSalle climbed back in the game, winning the second quarter 15-12. The Vikings took the final two periods 17-15 in the third and 17-15 in the fourth.
"I was really impressed with our defense," said Ledgerwood. "Every shot they had was contested."
The Lightning came out with a triangle and two defense, basically guarding Mabton's Alex Zavala and A.J. Valencia. And boy did Andy Rodriguez make them pay. Rodriguez scored a game high 20 points and had six rebounds to lead the charge for Mabton.
"Andy really stepped up," said Ledgerwood.
Teammate Ruben Mejia also helped the Vikings in the first half, scoring all seven of his points, said Ledgerwood.
What kept the game close for LaSalle was the second chance points the Vikings were giving up. LaSalle had 13 offensive rebounds. The Lightning ended up outscoring Mabton 18-2 on second chance points.
"We gave up way too many offensive rebounds," said Ledgerwood.
The Mabton coach also wasn't too happy with the intensity of his team on Saturday. Ledgerwood said the Vikings were up by more than a dozen in the first half and let the Lightning back in. Then in the fourth quarter, LaSalle cut into a 17-point deficit with two minutes to go.
"We had a few lapses of focus," said Ledgerwood. "Hopefully we learn from that."
. Mike Kantman can be contacted at (509) 837-4500, or email him at mkantman@eaglenewspapers.com
1 2 3 4 T
LaSalle 4 15 15 15 49
Mabton 14 12 17 17 60
Scoring: Mabton-Andy Rodriguez 20, A.J. Valencia 12, Alex Zavala 12, Ruben Mejia 7, Eric Tellez 7, Ryan Harris 2.
LaSalle-Chase Marquis 18.
Rebounds: Andy Rodriguez 6, Eric Tellez 4.
Assists: Pedro Huecias 6, Ruben Mejia 4.