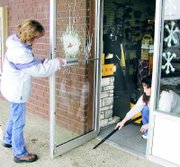 The thieves who broke into Taylor'D Footwear this past weekend didn't make as big a mess as they did the first time. But this time they seemed to know exactly what they were looking for.
They took the exact same thing on their second trip as they did the first time, said store owner Michelle Taylor.
Taylor said the thieves who unlocked the door after breaking the glass in the door took nearly an entire shipment of Doc Marten footwear from the store, located in the Eastway Shopping Center in Sunnyside.
"They took 20 pairs of the Doc Martens, but that's all they took this time," said store manager Sonya Anderson, who discovered the break-in Monday morning. The shop was also broken into on Dec. 17, at which time a cash box and the shop's inventory of Doc Martens were removed.
"This is the second time we've been broken into inside of a month," Anderson said.
"Last time they even took the special order shoes, which had been ordered as Christmas presents by our customers," said Taylor.
"It's very depressing," said Taylor.
Taylor and Anderson, who spent Monday morning sweeping up the broken glass and regrouping, reported the break-in to the Sunnyside police, who as yet have no leads in the case.
The loss is valued at roughly $2,500 in merchandise, said Anderson.
"But the worse part is that those shoes had just arrived and now I have to report it to my insurance company," said Taylor. "This really hurts," she said.