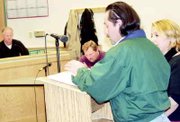 Impassioned pleas by several community residents to not have the city refer to Martin Luther King Jr. Day as Civil Rights Day apparently struck a chord with the Sunnyside City Council last night.
In approving a new list of holidays to be observed by city employees, the Council toyed with the idea of calling the third Monday of January Civil Rights Day. That day is a federal holiday and is recognized by all 50 states as Martin Luther King Jr. Day.
In years past employees of the local municipality worked on Martin Luther King Jr. Day, as the city refused to recognize that day as a holiday. That will be changing this year.
City Manager Bob Stockwell detailed for Council last night that with the switch to a 10-hour, four-day work week for city staff, an alteration to the holiday schedule was needed. He explained that on the old 8-hour, five-day work schedule city employees had been granted 11 holidays a year. Stockwell said by converting each holiday from eight hours to 10 hours of paid, off duty time, "...we end up with nine holidays instead of 11 holidays."
In the new schedule of the nine days the city recognizes as paid holidays that Stockwell presented to Council for its approval, the third Monday of January was listed as Civil Rights Day. Councilwoman Bengie Aguilar wasted little time in making a motion to adopt the new schedule, but with the provision that Civil Rights Day be referred to as Martin Luther King Jr. Day. Councilman Paul Garcia was just as quick in seconding Aguilar's motion.
But before a vote could be taken, Councilman Don Vlieger interjected and introduced an amendment to Aguilar's motion, asking that the list of holidays be approved as presented by Stockwell. Vlieger said the city manager had formulated a good plan, intimating he was comfortable with the schedule as proposed. Councilman Bruce Ricks agreed with Vlieger, providing the second for the amended motion to move forward.
Garcia responded that it would be an injustice to rename the holiday in an attempt to try to please someone. Whom that someone was, Garcia said, he wasn't sure.
Aguilar concurred. "The holiday should be called what it is," she said. "We're just looking for trouble."
At this point in the meeting several community residents stepped forward to voice their support for referring to the holiday as Martin Luther King Jr. Day. But it was Ezequiel Olmedo, speaking in broken and faltering English, who perhaps drove home the point the best that the holiday should be rightfully referred to as Martin Luther King Jr. Day.
Olmedo was one of numerous students in Jacqueline Maya's English as a Second Language adult class who flooded the Council chambers last night to present a petition that Martin Luther King Jr. Day be designated for this holiday. Maya said Olmedo was chosen to speak for the class. He told Council that in the students' humble opinions, Martin Luther King Jr., too, was a humble person who worked for civil rights and deserved to be recognized.
"Every person fights with their heart," Olmedo said, insinuating that King's heartfelt commitment to the cause of civil rights should be justly honored in this community.
Sunnyside High School history teacher Monty Johnson also stepped to the microphone last night to voice his support for using King's name in the designation of the holiday. Johnson said King embodies the civil rights movement, and that King preached change be accomplished non-violently.
"Actually, I'm a little embarrassed we're one of the few communities that don't recognize this," Johnson said.
Carol Stone, who regularly attends the local Council meetings, was a bit more pointed with her remarks last night.
"Why in 2005 are we still not able to say Martin Luther King Jr.?" she queried the Council. "It seems like we're stuck in a narrow-minded, racist attitude."
Following the public input, Mayor Ed Prilucik moved forward in addressing Vlieger's amended motion. Inexplicably, though, Ricks withdrew his second of the motion and Vlieger's proposal died on the floor. Prilucik then called for a vote on Aguilar's motion to adopt the new holiday schedule with Civil Rights Day being changed to Martin Luther King Jr. Day, and without any dissent, it was adopted.