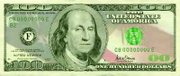 At first glance it may look real, but there is a big difference between some of the $100 bills being passed in Sunnyside and the bills issued by the U.S. Treasury.
Sunnyside police investigated 22 cases of possible counterfeit bills in 2004. Only in three of the cases were the bills found to be real, according to police records.
With the counterfeits, the color may be off, the ink smeared, numbers incorrect or the feel of the paper different than an authentic note. Some bills look as if they have been made on an inkjet printer or color copier, which is probably not far from true.
"The most common way of making them now is using a color copy machine," said Sunnyside Police Department Capt. Phil Schenck.
Schenck said counterfeit cases are difficult.
"Sometimes we catch them and sometimes we don't," he said.
In all cases of counterfeit bills, the phony money is sent to the U.S. Secret Service office in Spokane, which investigates counterfeit money in Eastern Washington.
Kevin Miller, Secret Service Resident Agent in Charge, said he is unsure if any of the Sunnyside cases have been solved.
"In the age of computers it's fairly easy to make a crude attempt at making a counterfeit," said Miller.
"I haven't seen a whole lot of counterfeit coming from Sunnyside," said Miller. "The activity in Sunnyside is minimal."
The Secret Service made several arrests in 2004 in this region, which stretches across Eastern Washington into Northern Idaho, but none were specific to Sunnyside.
"We always try to determine who it was that passed the counterfeits," said Schenck.
Sometimes the bills are passed by those knowing they are counterfeit and other times they are passed by unsuspecting victims who were given the bills as change or when cashing checks.
Most often the Sunnyside Police Department is called by local businesses or banks who believe a customer is trying to pass a fake bill, said Schenck.
Most banks reporting counterfeits do it after a bill has been spent at a business and is part of the daily deposits.
"If you talk to a bank teller they can tell a counterfeit just by feeling them," said Schenck.
He believes most counterfeit bills taken to stores and banks are done so by unsuspecting people who were passed the counterfeit bill.
"It seems that most people who are knowingly passing counterfeit are smart enough not to use it at banks or businesses," said Schenck.
With some of the older bills, without the new safety features, still floating around it is difficult sometimes to spot a counterfeit.
One report of $500 in counterfeit money at a local furniture store was traced back to a Sunnyside woman. The woman told police she had cashed her pay check at a Sunnyside grocery store, where she was given the money. Since businesses and banks won't assume the responsibility of the counterfeit money she was required to continue paying on a bill she initially thought she had paid off.
When money is immediately found to be counterfeit the customer trying to pass the bill is responsible, but sometimes the money makes it past the initial clerk. Then the store is responsible for the loss.
Schenck said it is important to remember that counterfeits don't only come in large denominations, such as $50 and $100 bills. Fake $10s and $20s were passed in Sunnyside this past year, as well.
The best way to check for a counterfeit is to look for the waterseal and security strip imbedded into the currency, as well as the color change number in the lower right hand corner of the bill.