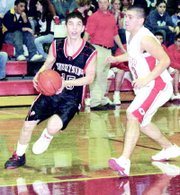 PROSSER - With senior Cody Heckert earning a rare start and beefy sophomore Ryan Engel called up from the JV to provide some muscle, the Sunnyside Grizzly basketball team rallied in the second half to down Prosser last night, 58-52.
For the Grizzlies, it was their first Mid-Valley League victory of the season in five conference match-ups.
The spindly Heckert made the most of his start last night. Using speed and quickness to disrupt Prosser's offensive flow, his high flying antics also aided the Grizzlies when they had the ball.
"Cody played very well," said second year Sunnyside Coach Steve Urrutia. "His hustle paid off. It created some things on the offensive side of the floor for us."
Heckert also threw in 11 points for the winners, all coming in the second half, when Sunnyside outscored Prosser by a 34-21 margin to take control of the game.
Urrutia also had words of praise for the sophomore Engel, who used his large 6'0" frame battling inside the paint and came away with 4 points in limited action.
Seniors Reid Schilperoort and Jake Thomas also played key roles in Sunnyside's victory Tuesday evening. The muscular, 6'3" Schilperoort paced the Grizzlies in the scoring column with a team high 12 points. He also grabbed a game high eight rebounds. Thomas, at 6'5", was a force with which Prosser couldn't reckon. Thomas slammed home 10 points, snared seven boards off the glass and came up with six of the nine blocks Sunnyside recorded last night.
The 5'8" Derrick Simmons, too, performed admirably for the Grizzlies by canning 10 points in what Urrutia described as a good effort by the junior.
Urrutia said he was also impressed with the play of 5'6" senior Efren Duran, who added a 5-point effort for Sunnyside.
"Every game out he (Duran) just keeps getting more comfortable out on the floor. He gets better with each outing," said Urrutia.
Prosser, which was led by Kyle Edwards' 14 points and an 11-point effort from freshman Cody Bruns, took the early lead on the Grizzlies. The Mustangs enjoyed a 31-24 first half advantage thanks mostly to 11 fouls being called on Sunnyside in the first two quarters. The Mustangs, on the other hand, had only four fouls whistled against them in the opening half.
The second half turn-around by Sunnyside might be attributed to Urrutia switching his team from a man-to-man defense to a 1-2-2 zone defense after intermission.
"When we went to zone, it gave Prosser fits," Urrutia said. "It was the difference, I think."
Sunnyside (1-4, 4-7) hosts Wapato this coming Friday night in search of its second straight Mid-Valley League win. Saturday evening, the Grizzlies are also at home for a non-league contest against the East Valley Red Devils.
Sunnyside 12 12 16 18 -58
Prosser 17 14 6 15 -52
FG-Sunnyside 25/50, Prosser 17/47. FT-Sunnyside 6/9, Prosser 15/17. Rbd.-Sunnyside 25 (R. Schilperoort 8, Thomas 7), Prosser 20 (K. Edwards 8). TO-Sunnyside 20, Prosser 14.
Sunnyside-Cantu 2, Simmons 10, Heckert 11, L. Schilperoort 4, Crimp 0, R. Schilperoort 12, Thomas 10, Pacheco 0, Duran 5, Engel 4.
Prosser-Iztas 2, K. Edwards 14, N. Edwards 5, Moore 5, Lochrie 7, Bruns 11, Brophy 6, Henry 2.