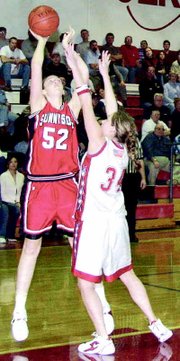 PROSSER - Sunnyside had a tough night Tuesday, losing what ended up being a close match to local rival Prosser.
The Lady Grizzlies were able to get off to a good start, finishing the first quarter just one point behind Prosser. But in the end, the Mustangs pulled out a 46-42 victory over the Sunnyside girls basketball team.
Sunnyside Coach Leo Gomez said his team started off strong, but then faced a lapse in the second quarter.
"In the second quarter we couldn't hit our shots," Gomez said. The halftime score showed the Lady Grizzlies down 26-17.
But the Sunnyside team came back from intermission with newfound strength. Gomez said in the third quarter the girls took the ball back, made their shots and rallied back to within two points of the Mustangs.
"We got back in the game," Gomez said.
Things looked good for Sunnyside as it continued to push past Prosser in the top of the fourth quarter, even working to tie the score at one point.
But it wasn't enough. Gomez said his team had a chance at one point during the fourth quarter to take the lead, but instead they handed the ball right back to Prosser.
"We gave Prosser the opportunity to come back," said the coach.
Gomez said it's the mental things his girls have to work on, adding that he knows he has a good team.
He added that Sunnyside's performance in the third quarter was probably the team's best defensive effort this season.
"But we need to keep doing that in the next quarter," Gomez said.
Gomez said senior Erica Mendez helped the Lady Grizzlies stay up with Prosser. Mendez scored 19 points for the Lady Grizzlies.
"Erica Mendez had a really good game and hit some big threes," Gomez said. "She did a great job."
He said Talia Spini and Bobi Haringa also played well against the Mustangs. Gomez said they helped with both scoring and rebounds.
Despite Sunnyside's loss to Prosser, Gomez said he feels his team has the capability of being one of the top teams in the league.
"I told the girls we can beat anyone in our league," he said. "There is no reason we can't be on top."
Sunnyside (1-4, 5-6) will take to the court again this coming weekend. The Lady Grizzlies will play Wapato on Friday and East Valley on Saturday. Both games will be played at home.
Sunnyside 10 7 14 11 -42
Prosser 11 15 7 13 -46
Sunnyside- Phillips 9, Rivera 0, Sarmiento 5, Alvarez 0, Caballero 0, Urrutia 0, Ruelas 0, Mendez 19, Haringa 3, Spini 6.