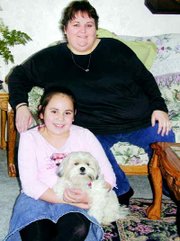 When Sarah Berumen and her mother, Linda Hall, were discussing how to celebrate the little Sunnyside girl's upcoming 10th birthday party, the Washington Elementary School fourth grader surprised her mother with an unusual request.
"She told me she didn't want any gifts for her birthday," said Hall, a Harrison Middle School special education teacher.
"My birthday is so close to Christmas and I don't need anything," Berumen, whose birthday is Jan. 12, told her mother.
"But, can I have a dogs' birthday party?," the young animal lover asked.
Berumen suggested that her friends could bring bags of dog and cat food to her birthday party instead of gifts for her. She suggested all of the "gifts" could then be donated to the Yakima Humane Society animal shelter in Yakima.
Berumen, who is a member of the Desert Paws 4-H Club, is a big animal lover, said Hall. Sarah is already a championship dog exhibitor, having earned a number of trophies in dog shows with her Shih Tzu, Muffin.
"Sarah felt it would be nice to help other animals," her mother explained.
"She knew there is always a need for dog and cat food at the animal shelter," Hall added.
"I just want to help," said Berumen.
So together, the pair are planning a birthday party for this coming Saturday to benefit Berumen's canine and feline friends. Birthday party guests, who will include members of Berumen's Girl Scout Troop #393, will be encouraged to bring bags of puppy and kitten food or bleach, which are all needed at the shelter.
"We called the Humane Society staff, who told us there is a great need for puppy and kitten food this time of year at the shelter," Hall said.
Hall and her daughter plan to deliver the presents to the shelter following Saturday's party.
"I hope other people will like my idea and maybe they will also donate food to the shelter," Berumen.