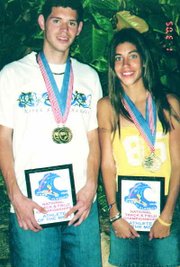 HAWAII - The humidity in the air may have slowed Grandview's Brittnee Sanchez down a bit while she was running her latest 3200-meter race, but it wasn't enough to deny her a first place finish.
While other students were enjoying their two-week winter holiday, Sanchez was miles away taking part in the Tourney Sport Invitational Track and Field Hawaii Classic. Sanchez, a sophomore at Grandview High School, left for the island state just three days after Christmas and was there until Jan. 6.
"It was very competitive and a great experience," Sanchez said of her trip.
Sanchez qualified to compete at the invitational by being one of the top three finishers at the Washington State track and field championship meet last spring.
While Sanchez was in Hawaii she took part in the cross country 5 kilometer, the 3,200 meter and the 1,600 meter races, as well as some relays. Sanchez took first place in each of her individual events and was later named Athlete of the Meet. This was an award that was voted on by the different coaches and officials who attended the event.
"I didn't really expect to get it," she said of receiving the award.
Sanchez said the winter invitational was conducted like any other track meet.
"It's just not the same people you always race against," she added.
Sanchez said she raced against high school students from around the country and Canada who had qualified for the invitational. She said it was nice to meet other people her age who are as involved in track and field as she is. Sanchez said there were about 200 athletes at the event, including Prosser High School sophomore Nectaly Barbosa.
Sanchez said running in Hawaii was a little different than what she is used to.
"The humidity kills you," she said.
When Sanchez wasn't running on the track at the University of Hawaii, she was learning ways to improve her times.
Sanchez said while at the meet there were different seminar-like sessions she could take part in. She noted that one she found particularly interesting featured different ways runners can start and finish their races.
Sanchez said her schedule also allowed for some sightseeing. She said while in Hawaii she visited the Pearl Harbor Memorial, went to a luau, visited the Dole plantation and stopped in at the Polynesian Cultural Center. Sanchez said it was her first trip to Hawaii.