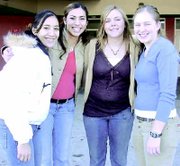 Five Sunnyside High School students will be freezing for a good cause outside the front doors of the school while the Sunnyside Grizzlies take on the Hanford Falcons at home Tuesday, Jan. 25.
The five girls, who are members of the high school leadership class, will be trying to raise money to help those affected by the Dec. 26 tsunamis in Southeast Asia.
The class members participating in the project are Emily Jones, Meghan Grubenhoff, Dolores Gomez, Daniela Rivera and Celia Gutierrez. Although they are still waiting for final approval from the ASB, they are moving forward with plans for the event.
Rivera was the one who first came up with the idea to raise money for the victims of the tsunami. She said while watching the devastation the tsunami had on people, she wanted to do something.
"I heard about it when it first happened," said Rivera, who added that she has been watching updates on television and reading about it in the newspaper.
"It makes you feel helpless when you look at how many people died and how many people they may never find," she added.
The girls hope the money they raise, which will be given to the American Red Cross and earmarked for tsunami victims, will go to help purchase food, clothing and shelter for those who lost everything.
Touched by the stories of those affected by the tsunamis the girls decided to hold a freezeout in one of the coldest times of the year. They will be sitting in front of the main entrance to the high school from 2 p.m. until midnight collecting money.
"We decided it would be a good way to get the community involved," said Grubenhoff.
They chose one of the last basketball games of the season as the night of their freezeout.
The girls have a goal of raising $1,500 in the 10 hours they will be holding the event.