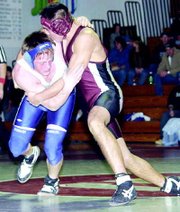 GRANDVIEW - With a possible share of the Central Washington Athletic Conference south division title in the balance, the Grandview High School wrestling team didn't disappoint last night.
A fired up Grandview squad took care of business on the mat, defeating league leading Kiona-Benton 42-24 in last night's anticipated match-up.
The Greyhounds (4-1) are now tied for first place in the league standings with Othello, Connell and Kiona-Benton. The league title remains up in the air, said Grandview Coach Jeff Sevigny. Ki-Be still has to battle against Othello and Connell before the end of the regular season. While the road to the league title is much easier for the Greyhounds, as they wrestle at Toppenish on Jan. 20 to finish league play.
"I was proud of them," said Sevigny of his team's performance last night. "They wrestled the way we needed them to wrestle to win. I can't say there was anyone who let us down."
Sevigny was quick to point out that the match was a lot closer than the score might indicate.
"Ki-Be wrestled hard," he added.
The evening began at 145 lbs. with Ki-Be's Jose Gonzalez pinning Rene Montelongo in 3:14.
"Gonzalez is one of their big guns," said Sevigny. "Rene, being a first year kid, put up a good fight."
At 152 lbs., Ki-Be's Tony Chapin won 7-2 in overtime against Jacob Robillard. The match was tied 2-2 at the end of regulation. Sevigny explained that Chapin gained the five points in overtime because the officials will allow a wrestler to try and score the pin in overtime if they have their opponent on their back.
"Jacob wrestled well," said Sevigny. "Jacob just made a mental mistake in overtime."
Grandview's Jesus Soto had a good outing against Ryan Phipps at 160 lbs., winning 8-2. Soto scored four points in the third period.
"Jesus looked solid," said Sevigny.
Tovias Magana continues to look strong at 171 lbs. for the Greyhounds. Magana pinned Ki-Be's Johnny Roman in 1:10.
"Tovias just gets better every match," said Sevigny. "He just outclassed the kid."
At 189 lbs., Grandview's Rigo Rodriguez put on a wrestling clinic, as he won by technical fall, 16-1, over Tommy Small.
Heleodoro Lopez made some mistakes down the stretch in his 215 lb. match against Ki-Be's Zac Cleg, losing 8-5. Sevigny said Lopez was up 5-3 with a minute to go, but relaxed against Cleg, who scored five points to close out the match.
Grandview heavyweight Andrew Morales made short work of Brit Samsell, winning by pin in 55 seconds.
"Andrew just ate him up," said Sevigny.
The Greyhounds forfeited at 103 lbs. to Troy Cunningham.
At 112 lbs., Ki-Be's Brandon Ashley won by pin over Andrew Tucker in 1:17.
Grandview's Fernando Godinez helped seal things for the Greyhounds with his victory over Justin Hunt at 119 lbs. Godinez won by pin in 2:54.
Kaelan Nelson had another strong outing for the Greyhounds at 125 lbs., winning a 10-2 decision over Jeff Slape.
Grandview's Matt Saldana controlled his match at 130 lbs., winning a close 12-9 decision over Kyle Haggins.
At 135 lbs., Grandview's Shay Seimears continues to look strong. Seimears manhandled Ki-Be's Hayden Walsh, winning by pin in 1:18.
Michael Benavidez (140 lbs.) finished the evening with a 10-8 victory over Ki-Be's Jerry Haug.
The Greyhounds will be competing in the 16-team Foss Invitational in Tacoma this weekend.