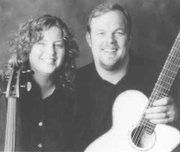 The husband-wife team of Smith & Adams will present the second concert in the Lower Valley Community Concert 2004-05 Series. The duo will be performing Sunday, Jan. 16, at 3 p.m. on the stage of the Sunnyside High School auditorium.
Playing cello and guitar, the duo will be performing classical as well as contemporary music.
Season tickets for the 2004-05 series will be available at the door.
This year's concert series also includes Westwind Brass, a brass quintet on Feb. 28; Alpin Hong, pianist, on March 22, and Baroque Northwest, April 16.
Season tickets for the series are still available. Cost for an adult ticket is $40, a student ticket is $15 and a family ticket (two adults, two students) is $85.
One night performance tickets for the Smith & Adams concert are $25 each.
Sunday, the concert hall doors will open at 2:30 p.m., 30 minutes prior to the concert.
For more information about this concert or the 2004-05 series, please call 786-3070 or 837-7054.