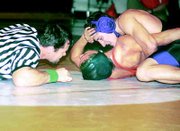 MABTON - Enthusiasm has not been a problem for Mabton High School wrestler Eli Perez. The only issue has been the way he has challenged that enthusiasm.
Last night, Perez unleashed his enthusiasm on White Swan wrestler Shane Loyd at a time when his team needed him most.
Perez whipped Loyd, winning by pin in 53 seconds to help ensure the Vikings' 39-27 victory over the Cougars.
The win moved Mabton to 2-0 in league. The Vikings will be at the Royal Rumble in Royal City this Saturday.
"We knew it was going to be pretty close going in," said Mabton Coach John Kilian of last night's match against White Swan.
Kilian couldn't have been more pleased with the way Perez performed last night. Kilian said if Perez had been pinned, Mabton's big man, Robert Marquez, would have had to score a pin at 215 lbs. just to get a tie.
"Eli went out and was pretty jazzed up," said Kilian. "He was the big hero. It was good for him to get some positive strokes."
Marquez ended up securing the win for the Vikings with his pin over Stanley Wentz in 3:43. Kilian said Wentz is a pretty good wrestler, coming into last night with only three losses. Marquez was ahead 7-1 at the time of the pin.
"Robert is so strong. He just kind of manhandles people," said Kilian.
The evening kicked off at 112 lbs., after neither team fielded a wrestler at 103 lbs.
At 112 lbs., Mabton's Luis Aviles recorded an 18-0 technical fall victory over Sheena Eastman.
"She was flexible," said Kilian of Eastman, whom he said countered several moves Aviles attempted. "You have to give her credit.
The Vikings forfeited the 119 lb. match to Katrina Kahma.
Andy Torres made short work of White Swan's Alvin Gonzalez at 125 lbs., winning by pin in 1:12. Kilian said Torres' abilities really came to the forefront last night.
The Vikings forfeited the 130 lb. match to White Swan's Kip Ramsey.
Marco Zepeda lost a close 4-0 decision at 135 lbs. to White Swan's Alfred Hawk.
Kilian said Hawk and the rest of the White Swan team did a lot of leg riding, which caused Mabton fits all night.
"Guess what we will be working on in practice today?" joked Kilian.
At 140 lbs., Mabton's Michael Clark won by forfeit.
Mabton's Jovani Ochoa avenged a loss last season to White Swan's Lupe Isaacs at 145 lbs. Ochoa scored three near falls enroute to a 14-2 whipping of Isaacs.
"Jovani was just out hustling the guy," said Kilian.
At 152 lbs., Mabton's Moises Gutierrez pinned Ben Gonzalez in 3:07.
Cesar Macedo lost by pin in the 160-lb. match to White Swan's Jeremy Howard. Kilian said Howard wore out Macedo with leg riding.
At 171 lbs., Mabton's Adrian Magana lost by pin in 32 seconds to Jacob England.
The Vikings did have one junior varsity match last night. Mabton's Vicente Tovar lost by pin in 1:40 to Jason Tabaniag.