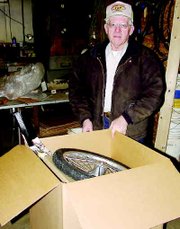 Ken Vieira, owner of Sunnyside Dairy Equipment and Supply, doesn't have much spare time. Between setting up, installing and repairing dairy lock-ups, freestalls and manure handling systems, and installing equipment at cheese plants, much of his day is filled with the dairy industry.
But, about 10 years ago, when his son was working in the family business with him, Kenda Custom Carts and Wagons became part of the services offered out of his Ninth Street business.
"It was just something (my son) happened to run across and thought it was a good idea," said Vieira.
Purchasing the existing business, he moved it from Yakima to the Lower Valley and began making carts and wagons of all sizes and styles.
One of the most popular models is a cart small enough to fit into a box that can be shipped via UPS. The carts can be pulled by a dog or a goat, he said.
The sizes of Vieira carts and wagons vary. He builds units for miniature horses, ponies and full size horses.
His most elaborate creation was a gleaming, white carriage that cost $10,000. The full-size carriage has velvety, burgundy facing seating for riders and a lofty seat for the driver.
It also had a CD player, brake lights and fancy turn signals, said Vieira.
"It has a top and carpet on the floors. There wasn't anything skimped on that one," he said.
Owned by a Tri-Cities man now, the carriage is used for weddings, quinceañeras and other special events.
Most of Vieira's carts are shipped to other states. He said it is very rare when one of his carts stay in Washington.
The former dairy farmer said that making carts is the hobby part of his job.
One of his custom carts he made was for a man who wanted to be pulled by his miniature donkey at the end of parades for horse manure clean-up. Vieira was able to make a wagon that met his specific needs.
"He wanted it painted purple, so we painted it purple for him," Vieira added.
Most of Vieira's carts come powder coated black unless otherwise specified.
Vieira even custom makes the single trees that are used to hook the animals to the carts. He makes the items out of oak, which he hand-turns at his Zillah home. He also makes metal runners for his carts so they can be used in the snow.
Only making them in his spare time, Vieira said he will make five carts or wagons at a time, that way when he gets an order he can ship out his handiwork within a few days.
"I need to find time to make some more," he said. "I'm starting to run low."