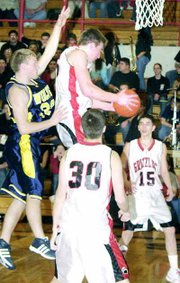 The Sunnyside High School boys basketball team is back in the race for a postseason berth.
The Grizzlies (2-4, 5-8) claimed their second straight Mid-Valley League victory last Friday night, defeating visiting Wapato, 59-52.
Four of the Grizzlies hit double figures in the scoring column, including 5'11" senior Cody Heckert, who tossed in a game high 14 points. Heckert, who had one of two 3-pointers on the night for Sunnyside, also had a team high five assists.
Seniors Reid Schilperoort and Jake Thomas also turned in solid performances against the Wolfpack. The duo combined for 21 points and 19 rebounds.
The game high 10 boards pulled down by Schilperoort led Sunnyside to a 39 to 15 advantage on the glass.
Wapato took a 44-43 lead into the fourth quarter, but the Grizzlies outscored the Wolves by a 16-8 margin in the final stanza. Sunnyside hit 11-of-13 free throws in the final period, which included a 4-for-4 effort from junior Derrick Simmons and a 3-for-4 effort from Heckert.
"It was a good win for us," said second year Sunnyside Coach Steve Urrutia.
Sunnyside stayed in a 1-2-2 zone defense the entire game against Wapato, and for the most part it worked, as Wapato hit only 38 percent of its shots from the field.
"The 1-2-2 zone is the best fitting defense for our kids at this point," Urrutia said.
The following night at home, Saturday, Sunnyside hosted East Valley and dropped a 61-44 non-league contest to the Red Devils. The Grizzlies were held to 37 percent field goal shooting in the game.
"Not real good numbers," said Urrutia, comparing his club's 18-for-49 shooting stats with East Valley making half of its field goal attempts (21-for-42).
"We were on the flat side all night long," he added.
"East Valley kept giving us different defensive looks. It kept our kids off balance all night," Urrutia explained.
East Valley's top gun, offensively, was Drew Edgerly. He canned a game high 15 points.
For Sunnyside, Thomas, Schilperoort and Tony Cantu hit double figures with 12, 11 and 10 points, respectively.
The Grizzlies are scheduled to host 2A Othello this coming Tuesday, which will close out non-league play for Sunnyside.
. Bob Story can be contacted at
(509) 837-4500, or e-mail him
at bstory@eaglenewspapers.com
Friday
Wapato 16 11 17 8 -52
Sunnyside 20 10 13 16 -59
FG-Wapato 19/50, Sunnyside 21/43. FT-Wapato 9/14, Sunnyside 15/23. Rbd.-Wapato 15, Sunnyside 39 (R. Schilperoort 10, Thomas 9). TO-Wapato 10, Sunnyside 21.
Wapato-Hata 1, J. Herrera 8, Smiscon 3, Roa 2, Juarez 11, Clements 2, B. Herrera 12, Brown 13.
Sunnyside-Cantu 13, Simmons 4, Heckert 14, L. Schilperoort 0, Crimp 2, R. Schilperoort 11, Thomas 10, Duran 2, Engel 3.
Saturday
East Valley 14 15 14 18 -61
Sunnyside 11 8 14 11 -44
FG-East Valley 21/42, Sunnyside 18/49. 3-pt. FG-East Valley 4/11, Sunnyside 1/4. FT-East Valley 15/21, Sunnyside 7/14. Rbd.-East Valley 26, Sunnyside 25. TO-East Valley 13, Sunnyside 16.
East Valley-Corral 4, Rojas 10, Smith 9, Edgerly 15, Livingston 0, Snell 6, Geffrey 0, West 5, Harris 0, Komstadius 2.
Sunnyside-Cantu 10, Simmons 0, Heckert 7, L. Schilperoort 0, Crimp 0, R. Schilperoort 11, Thomas 12, Montelongo 0, Duran 4, Engel 0.