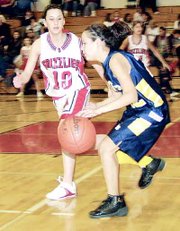 Sunnyside faced two tough opponents this past weekend, taking on Wapato Friday night only to go up against East Valley, one of the best teams in 2A division, on Saturday night.
The Lady Grizzlies were able to escape unscathed against the Wolves, winning by a score of 55-35, but weren't as lucky against the Red Devils, losing 57-36.
"We came out a little flatter than we should have," said Sunnyside Coach, Leo Gomez about the Grizzlies performance against East Valley.
Gomez said although his team got off to a slow start, they managed to come back in the second half, scoring 25 points after intermission.
"We had our moments, but we couldn't convert on our shots," Gomez said. "We didn't play like we should have."
He said East Valley, on the other hand, was hitting a lot of its shots. He said the Red Devils were shooting well from the outside, adding that the Lady Grizzlies have yet to come upon a Mid-Valley League team that plays as well as East Valley did from the outside.
"They played a really aggressive game," Gomez said of the 2A Red Devils. "They were undefeated coming into it and they weren't going to let that get away."
He added that East Valley hustled on the court and played good defense.
But the Lady Grizzlies were still able to get in there and stop some of East Valley's offense. Gomez said the Red Devils were running offensive plays the Lady Grizzlies were familiar with, which made it a little easier for Sunnyside.
Overall, Gomez said he was happy to see that his team didn't give up.
"It could have been an ugly game, but it wasn't," he said.
Helping the Lady Grizzlies against East Valley was junior Talia Spini, who scored 11 points.
"She did a good job scoring and really played some defense for us," Gomez said of Spini.
Gomez added that the girls who came off the bench for Sunnyside also did a really good job for the team, working hard for the Lady Grizzlies.
Saturday's loss against East Valley came just one night after Sunnyside finished 20 points ahead of Wapato.
"Wapato has gotten a lot better every year," Gomez said of the Wolves. "No one is going to take them lightly."
And going into the game, Sunnyside had not dismissed the Wapato team.
"Everybody in our league is so close that anybody can beat anybody on any given night," Gomez said.
He said his team played well during the first half of Friday night's game, but really stepped it up in the second half.
Gomez said his team did a great job of blocking out against Wapato, something the team had talked about.
"So we know they can do it [now]," Gomez said.
Friday night, Gomez said senior Lanna Pangle, who scored 2 points for the Lady Grizzlies, had some good minutes against Wapato. He said she did a good job hustling.
He added that Fatima Ruelas also had a good game, scoring six points and grabbing 11 rebounds for Sunnyside.
"She worked really hard out there," Gomez said of Ruelas.
The Lady Grizzlies (2-4, 6-7) have a busy week ahead of them as they prepare to take on Othello Tuesday night, then West Valley on Friday night.
. Elena Olmstead can be contacted at (509) 837-4500, or e-mail her at eolmstead@eaglenewspapers.com
Wapato 12 15 8 20 -55
Sunnyside 14 4 11 6 -35
Sunnyside-Phillips 18, Sarmiento 3, Alvarez 4, Caballero 2, Urrutia 7, Ruelas 6, Mendez 4, Pangle 2, Spini 9.
East Valley 17 13 16 11 -57
Sunnyside 6 5 8 17 -36
Sunnyside-Phillips 4, Rivera 0, Sarmiento 3, Alvarez 1, Caballero 3, Urrutia 3, Ruelas 2, Mendez 9, Spini 11.