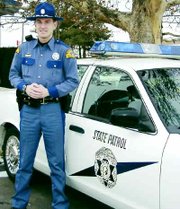 Oregon native Robert Morris has lived in Washington state for just as long as he's been a member of the Washington State Patrol.
Morris, who joined the state law enforcement agency in August 2003, said his first exposure to the Washington State Patrol came at the age of 10. He said that was when his uncle was commissioned as a state trooper for the agency.
"He was one of those guys I always looked up to," Morris said of his uncle.
Even growing up in Oregon, in a small community of about 300 people located just outside The Dalles, Morris knew that one day he wanted to work in Washington.
But following high school graduation, Morris opted to serve as a fish and wildlife cadet for the Oregon State Police. He worked in that capacity from the time he was 19-years-old.
Morris, now 23, said lay-offs in the Oregon agency made him decide to turn his attention to Washington.
"I knew it was a good agency," Morris said of the Washington State Patrol. "I wasn't going to pass up a chance to work for them."
Morris explained that after joining the law enforcement agency he was sent to the academy for six weeks and then on to an armory class, where he was trained to use all of the weapons troopers carry with them. Morris said after completing the armory class he was sent out to serve as a cadet in the governor's mansion in Olympia.
Morris said working in the governor's mansion serves as a training opportunity for new cadets. He said it allows people new to the agency to become familiar with how the state patrol operates while working in a relatively low-stress environment.
After serving for a period in the governor's mansion, Morris went back and attended trooper basic training, from which he just graduated on Jan. 5.
Morris said he wanted to work in the Yakima Valley, noting that he has family living in Yakima, the Tri-Cities and Goldendale. However, when he first started looking at state patrol offices that were hiring, the Sunnyside division wasn't one them. It wasn't until later on in the process that a position became available to the new trooper.
"It just felt just right," Morris said.
Morris, whose first day working in Sunnyside was Jan. 6, said he is currently working to familiarize himself with the area. He added that working the Yakima Valley is a little different than the time he put in on the west side of the state.
"It's a little slower than it was in Olympia," Morris said.
.