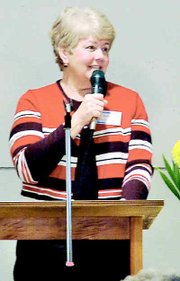 PROSSER - As a former executive secretary, real estate broker, high school teacher and now as a homemaker, Karen Gunderson of Bellevue knows the value of being organized.
"If my husband were here he would laugh at my organizational skills," she said to the women attending the Lower Valley Christian Women's Club meeting Monday afternoon. "But I know what's in just about every pile in the house."
A native of Amarillo, Texas, Gunderson shared with the women at the luncheon that there are no accidents in life and that each person has a purpose.
"Over 500 years ago more than 1.48 million people on the planet began the production of you," she said.
Growing up in Amarillo, Gunderson lived down the street from her grandparents, from whom she learned the finer skills of sewing and playing cards.
In school, Gunderson worked on the school newspaper, and was the yearbook editor her senior year.
"I was the kind of kid who liked school," she said.
After two years of college Gunderson married her high school sweetheart. She worked while her husband finished school and then finished college with a teaching degree in accounting, typing and business law.
Gunderson said she began to believe that if she was well organized and carried out her plans everything would go well for her.
Then her first disaster hit. The apartment she lived in with her husband was destroyed by a hurricane.
"I was OK with it because I knew we were in good hands. We had Allstate Insurance," chuckled Gunderson.
Next, her family was in a severe car accident, in which the car rolled. Again, Gunderson felt she was in good hands.
The third blow to her life wouldn't be fixed by good insurance. Her husband left her and her marriage ended.
After the third shock, Gunderson embraced the lifestyle of the 70s and failed to consult the master's plan, she said.
Gunderson knew God loved her and that all had sinned. She had learned it as a young girl attending a Bible club.
She also knew that her disobedience kept her from God and that God had sent his sinless, perfect son to bridge the way so we could have a relationship with God.
"I wasn't allowing Him to control my life," said Gunderson.
It wasn't until she met a Navy pilot and fell in love that they began seeking God's plan for their lives.
The mother of three children and two adopted children, she said they have a dynamic, exciting and fulfilling life following God's plan.
It doesn't mean everything is easy, she said.
Ten years ago her brother died suddenly of a heart attack in a stockcar race. Although difficult coping with the loss of her 41-year-old brother, she said she finds comfort knowing she will see him again because he had made a decision to accept Jesus Christ into his life.
.