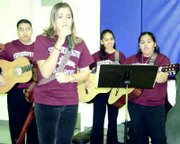 The Sunnyside Community Center was abuzz with activity as community members gathered to commemorate the birthday of civil rights leader Martin Luther King Jr.
The Sunnyside event was organized by AmeriCorps Lower Valley OIC, and featured everything from literacy activities for children to a skit of the Montgomery Bus Boycott, which was sparked by Rosa Parks not giving up her seat on a city bus.
Beth Bourgeois, AmeriCorps program assistant, said the celebration marked the second year local AmeriCorps members have held a Martin Luther King Jr. Day event in Sunnyside. This year AmeriCorps members worked to put together a PowerPoint presentation on the civil rights leader's life and accomplishments, took time to present their skit to the youth who attended the event and offered refreshments.
Bourgeois said the event was cut short due to inclement weather. The Martin Luther King Jr. Day activities, which were originally scheduled to run from 11 a.m. to 3 p.m. concluded at 1 p.m.
Despite ending early, AmeriCorps members were able to do many of things they had originally planned, including a performance from the Grandview High School mariachi band. The only activities that didn't go off were two speeches that had been planned. Sunnyside City Councilwoman Bengie Aguilar had been scheduled to speak, as well as GEAR UP site director Lino Guiterrez and Rey Pascua. Bourgeois said even the food drive that the AmeriCorps members had organized went fairly well despite the shorter event.
The Lower Valley AmeriCorps members weren't the only people working on Martin Luther King Jr. Day. In fact, Gov. Christine Gregoire took time Monday to urge Washington citizens to make the Martin Luther King Jr. holiday "a day on, not a day off," by participating in community service projects.
"Dr. Martin Luther King is a hero for all of us. I ask you to join with me in building upon his legacy," Gregoire said. "I believe the best, and most sincere way we can pay tribute to Dr. King is to join together to work for a better Washington."
Gregoire worked with a team of volunteers to assemble emergency kits and sort donated blankets, clothes and goods for needy families at AmeriCorps' Helping Hands House in Puyallup yesterday.
Martin Luther King Jr. was a civil rights leader who led many demonstrations during his lifetime, the first of which was the Montgomery Bus Boycott, which lasted 382 days. He was a member of the executive committee of the National Association for the Advancement of Colored People, was elected president of the Southern Christian Leadership Conference and planned drives in Alabama to register African Americans to vote. During his lifetime, the civil rights leader conferred with President John F. Kennedy, campaigned for President Lyndon B. Johnson and was named Man of the Year by Time magazine in 1963. In 1964, Martin Luther King Jr. was awarded the Nobel Peace Prize for his efforts.
.