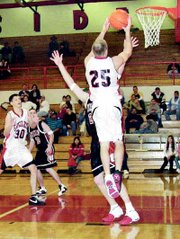 Nothing flashy, just solid, fundamental basketball propelled the Sunnyside High School boys hoop team past the Othello Huskies last night.
The 50-34 non-league victory, Sunnyside's third win in its last four games, upped the Grizzlies' record to 6-8. Tuesday evening's game closes out non-conference play for Sunnyside. The Grizzlies have six league contests remaining and are currently tied with Wapato, at 2-4, for the Mid-Valley League's fifth and sixth seeds into the District playoffs.
In knocking off Othello last night, the Grizzlies held the visitors to single digit scoring in the first three quarters. Overall for the game, the Huskies were limited to taking just 31 shots from the field. And, Othello was only successful on 11 of those attempts.
Sunnyside, on the other hand, canned 20-of-45 field goal attempts. Grizzly Coach Steve Urrutia quickly added, though, that he would like to see his club launch a few more salvos each game, "...provided we're getting good looks at the basket and not taking bad shots."
Other than the field goal shooting numbers last night, the two teams had near identical stats. Both clubs went 1-for-10 from behind the 3-point arc, there were only three boards separating the rebounding totals, the difference in the number of turnovers tallied just three and the number of free throws made came to 11 for Othello and 9 for Sunnyside.
Scoring-wise, Othello had just two players who pushed in more than two points. Jason Hafer finished with a game high 16 and Husky teammate Eric Gomez added 13.
Sunnyside's scoring was distributed throughout. Seniors Tony Cantu and Cody Heckert led the balanced effort with 10 points apiece. Seniors Reid Schilperoort, Jake Thomas and Luke Schilperoort added 8, 7 and 6-point performances, respectively. Chipping in a total of 9 points were junior Derrick Simmons and senior Efren Duran.
The Grizzlies' leaders inside the paint last night were Thomas and Reid Schilperoort. The duo combined for 14 of Sunnyside's 27 rebounds. Schilperoort also had three blocks, and Thomas came away with six steals. Also notching six steals for Sunnyside was Simmons.
Sunnyside, which increased its 23-15 halftime lead to 33-21 heading into the fourth quarter, socked the game away by outscoring the Huskies 17-13 in the final period.
The Grizzlies' lone remaining game this week is scheduled for Friday night at West Valley (4-2, 8-6). The Rams won the first meeting of the season, on Sunnyside's floor, back on Dec. 11 by a 64-56 score.
.