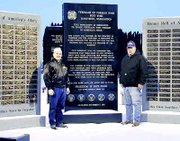 The Sunnyside War Veterans Memorial located at Lower Valley Memorial Gardens has earned its supporters national recognition.
The SunnyView VFW Post #3482 leadership learned this past Saturday that the Sunnyside memorial was selected to receive the National Veterans of Foreign Wars National Award of Excellence, said Bill Ingram, SunnyView VFW Post #3482 commander.
The award is presented as a part of the National VFW's Community Activities National Award Program for special projects, said Ingram.
In announcing the award, National VFW Commander-in-Chief John Furgess said, "Through our VFW community service program, we help in building a better and stronger America. We fulfill our commitment to serve America's veterans and their families (with projects such as this memorial)."
"We feel our memorial stands as a salute to our community's veterans," said Ingram.
Ingram and Veterans Memorial Chairman Greg Schlieve learned of Sunnyside's award while attending the Washington VFW Department's two-day mid-winter conference held this past weekend in Wenatchee.
"It is a great honor to be selected for this honor," said Ingram.
"Many people volunteered their time and money to make the memorial a reality," said Schlieve.
"We are extremely happy to receive this honor," said Schlieve, who noted this is the first year the National VFW has offered a special projects award.
"We are waiting to learn if we will also be singled out for a national cash award to be presented at the National VFW convention to be held in Salt Lake City next summer," said Ingram.
With the memorial 99 percent complete, the memorial committee is planning to add a second wall to the memorial which will display the names of another 110 Lower Valley men and women veterans, said Schlieve.
Construction on the memorial began in 1999 and was dedicated on Dec. 7, 2001. "We are planning a re-dedication when the new wall is completed," said Schlieve.
.