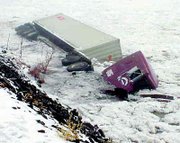 SELAH - A head-on collision early Wednesday morning on SR-821, known to many as the Ellensburg Canyon Highway, claimed the lives of two men. One of the deceased was a Sunnyside resident-41-year-old Martin G. Guerrero.
Wet and foggy conditions may have been to blame for the 6:20 a.m. fatal collision.
The crash sent Guerrero's tractor-trailer rig careening through the west side guardrail, down an embankment and into the Yakima River. Rescue workers toiled all day Wednesday to recover Guerrero's body from the submerged semi-truck. Because of heavy ice flows in the river, rising water levels and darkness, work crews for safety reasons elected to postpone the recovery of the semi-truck until this morning (Thursday). The semi was anchored with a cable across the highway to the Jersey rail.
SR-821 was closed to motor vehicle traffic over night.
The second victim in Wednesday's head-on crash was Christopher D. Palo, 37, of Ellensburg. WSP troopers said he was killed instantly.
At this time it is believed Palo, who was southbound in a 1985 Ford Ranger pick-up truck, crossed the center line and collided with the northbound tractor-trailer rig driven by Guerrero.
The Jan. 19 accident occurred at milepost 6.9, approximately 10 miles north of Selah.