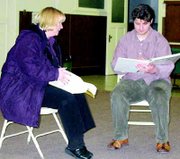 PROSSER - Casting is complete for the Valley Theater Company's spring musical She Loves Me and rehearsals are well underway.
Auditions held in early January produced a nice mix of veteran actors and newcomers alike, according to company spokesperson Jim Milne.
He said the play, being directed by Kimberly Mears of Prosser, was the basis for the popular movie, You've Got Mail, starring Tom Hanks and Meg Ryan.
The musical version tells the story of star-crossed pen pals, who unbeknownst to each other are co-workers in a perfume factory, he explained.
Kurt Reeser of Yakima has been selected to play the lead role of George. His love interest Amalia will be played by Traci Honeycutt of Grandview.
Last year's company newcomer L.J. DaCorsi of Prosser will play Maraczek while theater veteran Marcus Wall of Grandview is cast as Arpad. Other lead characters include Wapato's James Klarich as Kodaly, Prosser's Bill Boge as Sipos and Sue Ellen Davis of Prosser as Miss Ritter.
Other characters will be played by Billy Beston of Grandview, Nicole Ammerman of Prosser, Katie Wheeler of Grandview, Megan Klarich of Wapato and Tara Collins of Grandview.
Customers and carolers will played by Grandview's Linda Chester, Tony Chester, Amy Householder, Sharon Lain and Marcie Wall; Prosser's Sandy Freepons, Karen Pitman and Julie Trumble; Will Lint of Outlook and Linda Pietz of Kennewick.
Milne said people interested in helping backstage or with other behind-the-scenes positions can call Valley Theater Company co-producer Pam Craig at 839-4430.
The company will present She Loves Me with performances March 18, 19, 20, 25 and 26.